It hasn't exactly felt like summer through the week, with windy conditions, spells of rain or showers and temperatures in the high teens or just into the low twenties Celsius at best. This in stark contrast to last week, when we saw temperatures reach the 30s Celsius quite widely across the UK. Today and the weekend continue the not particularly summer-like theme, with most parts becoming rather cloudy at times, with rain or showers, particularly across the north and west. It will become unseasonably windy through the weekend too as the isobars tighten with areas of low pressure crossing the north. The driest, brightest and warmest conditions likely to be found towards the southeast of England. However, it looks to turn drier across southern areas next week, as a ridge of high pressure builds in, but the north will continue to see cloud, rain and windy conditions at times and nowhere will be particularly that warm.
Today
For now, Friday will have more of an autumnal feel rather than high summer feel across northern and western areas, with wet and windy conditions through much of the day, though southern England and East Anglia should remain mostly dry and bright or sunny until this evening.
So cloudy and windy with outbreaks of rain for much of the day across northern, central and western areas and while Wales, SW England and the Midlands will be drier for a time, it will turn wet here through the afternoon too. The rain turning heavy and prolonged, with a couple of inches falling over western hills, the Met Office have issued a yellow warning for rain for SW Scotland – where 20-30mm could fall quite widely, locally as high as 60mm over higher ground.
It will turn very windy too, with gales developing across Irish Sea coasts, North Wales and northern England in particular. So, it won't feel particularly pleasant. After a sunny and dry start across southern counties England and East Anglia, clouding over as we head through the afternoon, with a few spots of rain for East Anglia and central southern England, sunshine perhaps hanging on across the far southeast.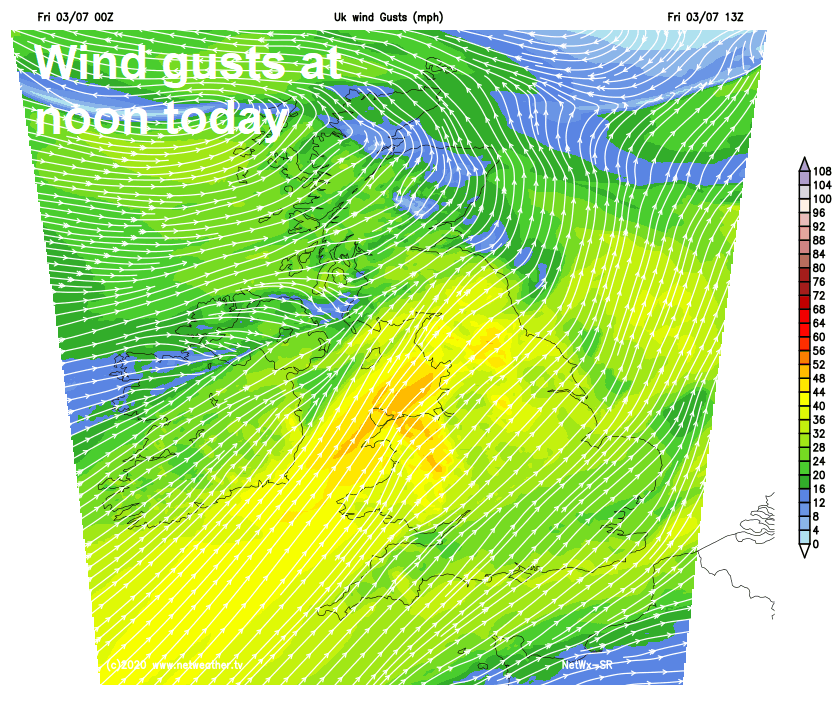 Temperatures nothing to write home about for early July, reaching 14-15C across Scotland, 18-21C across England, Wales and N. Ireland. A strong southwesterly wind across all parts making it feel cooler too.