The weekend has welcomed in cooler, fresher and windier conditions, as an area of low pressure moving in across the west kicked out the hot, humid and thundery airmass that built up during the working week. Sunday continues the cool, windy and unsettled theme, with a fairly deep area of low pressure for early summer close to northwest Scotland, bringing a blustery southwesterly wind across all parts and driving bands of persistent rain in across parts of the north, sunshine and showers elsewhere. Next week looks continue to the unsettled theme, with areas of low pressure moving through, bringing showers or longer spells of rain. However, there will be drier sunnier spells at times for many, but we will not see a return to the heat we saw last week anytime soon, certainly not this coming week.
Today
For now, a rather cloudy and windy morning across north Wales, northern England, N. Ireland and Scotland – with areas of rain spreading northeast, heavy and persistent over higher ground, though NE Scotland may stay mostly dry and bright or sunny bar the odd sharp shower. South Wales, Midlands, southern England and East Anglia seeing a sunnier morning, but there will be some showers blowing through on the brisk wind, particularly across the west.
Staying generally cloudy and windy with further spells of rain through the afternoon across the northern half of Britain, rain heavy and persistent in places, particularly across higher ground of the northwest. NE Scotland may stay brighter, but with heavy showers. The Met Office have yellow warnings for rain in force from 0600 today until 1500 tomorrow across N. Ireland, parts of NW England and western Scotland, with 40-50mm expected to fall widely, a few places may see 90-120mm during their warning period. Also, rather windy, with gusts of 50mph in exposed places. High across the north reaching 14C in Glasgow and Belfast, 17C in Liverpool and Aberdeen.
For southern half Britain, that's south of north Wales and northern England, a brighter but windy afternoon but with scattered blustery showers, these heaviest and most frequent towards the west, with the odd rumble of thunder possible. Parts of SE England and East Anglia could stay dry though. Highs this afternoon reaching 17C in Cardiff, 20C in London, 21C in Norwich.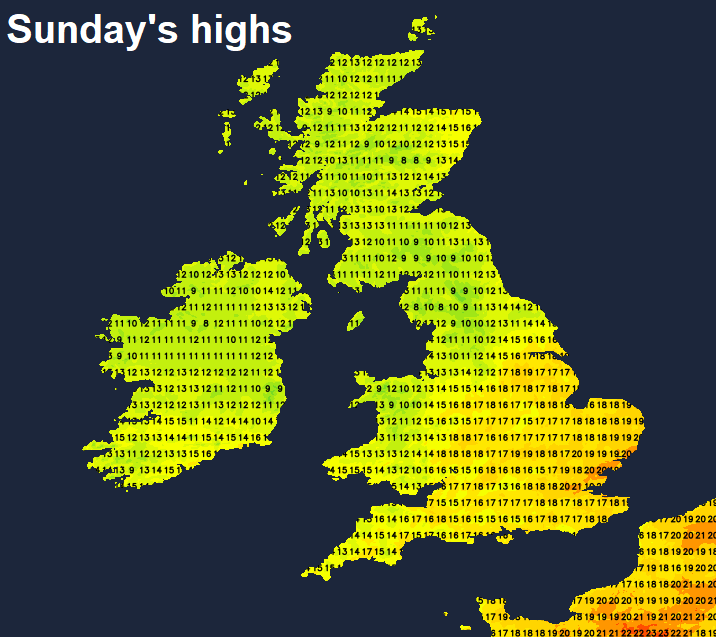 Staying windy for many overnight, generally cloudy with further spells of rain across the northern half of Britain, southern areas drier with clear spells, though there will be a few passing mainly light showers.