Typical isn't it, just when Covid-19 restrictions are lifted enough to allow more sport, the weather changes. Pigeon fanciers will be particularly peeved this morning by this unfortunate dose of 'sod's law', after not being allowed to race for many weeks in perfect conditions. On the other hand, many farmers will be pleased, as at long last they see their parched fields get a welcome drink, as a small but vigorous depression in the North Sea gives a mostly cool, unusually windy, showery start to the weekend.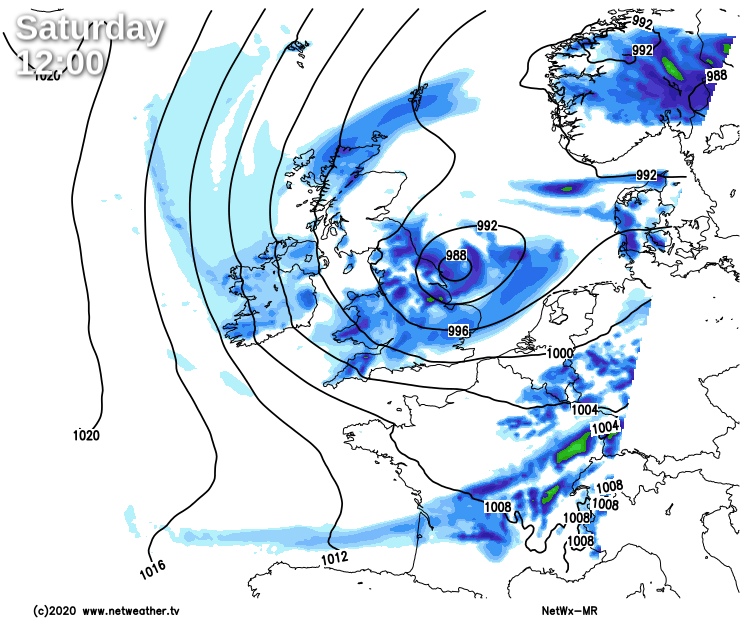 It's a mostly dry start in the South with some sunshine, but it won't last, as a band of rain currently across North Wales, the Midlands and East Anglia moves in fragmenting into scattered showers as it comes. The North and West of Scotland are beginning wet, but this too will break into showers. Otherwise, for most parts, it's a story of sunny intervals and scattered blustery showers. Some in the East will be heavy giving local hail and thunder, with the best of the weather today over sheltered parts of central and southern Scotland and towards the South coast.
A fresh and blustery West or North Westerly wind will give strong or gale-force gusts of up to 45 or 50mph along exposed coasts making it feel cold, especially when a shower comes along. As a result, it'll be rather cool, with top temperatures mostly in the range 12 to 17C, but in the brighter spots, 18 or 19C is possible by this afternoon.