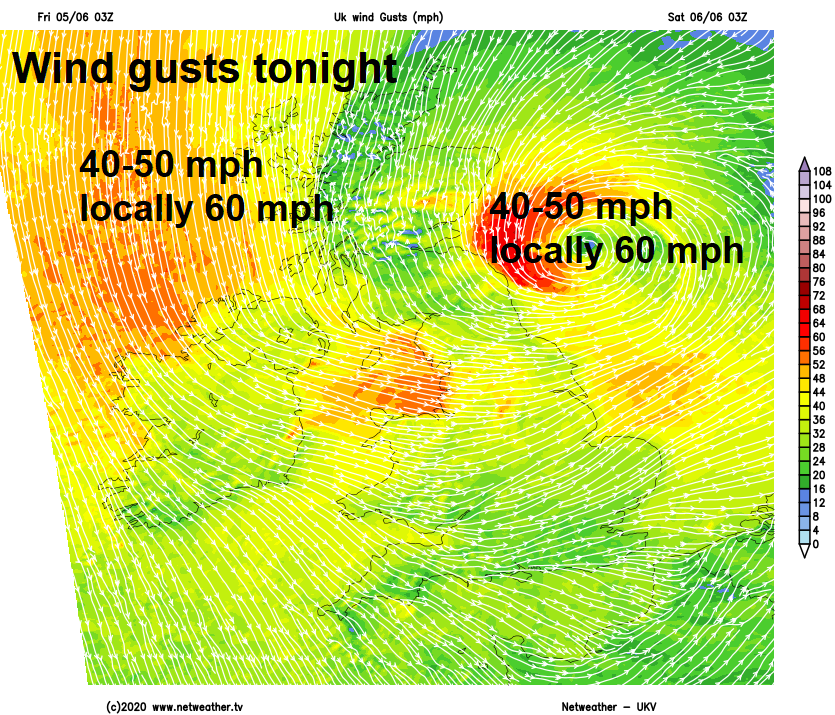 Saturday
Another blustery and cool day on Saturday, as an unseasonably deep area of low pressure slides down the east coast of England. An occluded front will slide south with the low, bringing a band of rain south across Wales, Midlands, southern England and East Anglia through the morning, followed by sunny spells and scattered blustery showers driven south by a strong to gale force northerly wind across all parts, showers will turn heavy with hail and thunder in places across central and eastern areas, perhaps longer spells of rain across eastern Scotland. Temperatures rather disappointing for early June, reaching 13-16C at best.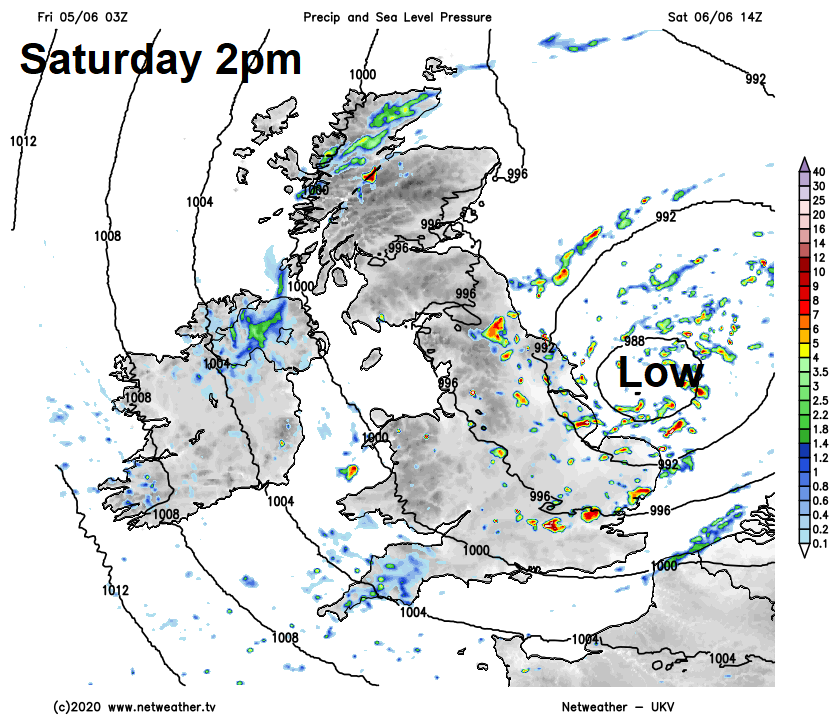 Sunday
Somewhat calmer on Sunday, as low pressure moving down the North Sea weakens, with winds easing and showers or longer spells of rain becoming increasingly confined towards the east coast of England through the day with increasing sunshine and just isolated showers spreading from the west. It will feel a little warmer as a result, temperatures reaching 15-18C, though cooler across far north of Scotland and eastern coasts – with 10-14C more likely.
Improving weather next week
Generally cloudy, cool but mainly dry through Monday, though a few showers could develop across Wales and SW England for a time. Perhaps a dry and bright start across England and Wales on Tuesday, thickening cloud across Scotland and N. Ireland as a band of rain spreads southeast, reaching northern England and Wales in the afternoon, staying dry further southeast. Rain clearing SE England Wednesday morning, then it looks like high pressure building in from the west for the rest of the week, with increasing sunshine and also temperatures on the rise back into the low twenties Celsius across the south.