Yesterday almost had novelty value. It's been so unusual to see rain on the radar or not have highs into the twenties lately. The cooler, unsettled weather is going to become the norm for the time being though. It even ramps up a notch Friday and into the weekend as a North Sea low pressure system sinks down the eastern side of the country bringing some persistent rain, showers and gusty winds.
For today, it's a case of a few bright or sunny spells, a fair bit of cloud and a reasonable scattering of showers. The bulk of the showers have started the day in the north and northwest, but they will move southeast as the day wears on. There'll be some heavier ones amongst them too, with a few rumbles of thunder not out of the question. It'll be a cool feeling day, particularly in the north to northwest breeze blowing in many places.
Temperatures will be warmest in the south and southeast of the country, with highs of 15-17c, elsewhere 12-15c will be more like it and a few degrees down on that near to northern and western facing coasts. The average for the time of the year is 14c in Northern Scotland and 19c in Southern England.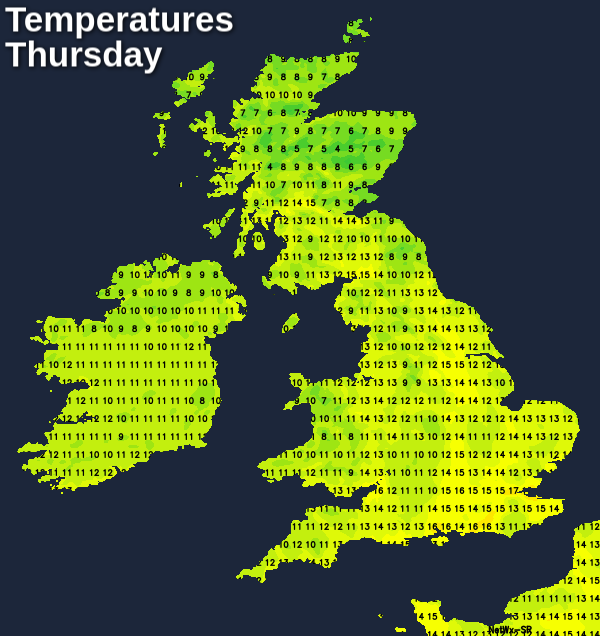 Overnight tonight, most but not all of the showers will die out. It'll be mainly near to coasts where they persist, but the odd one may hang around inland. Most places will cool off into single-figures, there could even be a touch of frost in the Highlands.