Yesterday was the last day of warm sunshine for a while, with Gosport in Hampshire the hotspot reaching 27C. It's a cloudier and increasingly cooler picture over the coming days, with the promise of rain for many parched gardens too. The flow will be coming from the north behind a cold front bringing rain south today, so tomorrow temperatures will, for a change, be widely below average, rather than above average like recent weeks. On Friday night, higher parts of the Scottish mountains could even see sleet and snow. Cool, breezy and showery conditions Thursday and Friday continuing into the weekend as well.
Today
For now, it's a rather different morning across England and Wales compared to recent mornings, with grey skies and outbreaks of rain away from the far SE of England and East Anglia – where it's still mostly dry with some brightness. After a wet evening and night, Scotland is brightening up from the northwest, though there are a few light showers across Scotland, a chilly start here though, a frost earlier over the higher ground of the Highlands.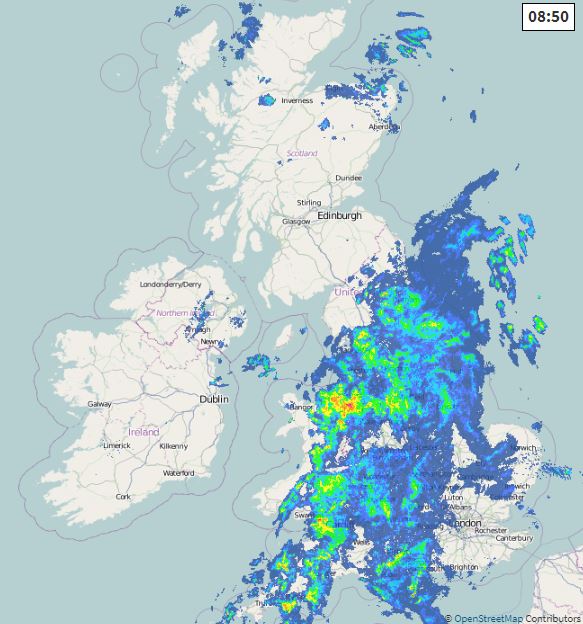 Check the live radar here.
The cold front bringing cloud and rain across Wales, northern, central and western areas of England will only slowly edge southeast through the day. So much of England and Wales will remain rather cloudy with outbreaks of rain, the rain heavy at times across western areas. The far SE England and eastern side of East Anglia will stay mostly dry with some glimpses of sunshine until this evening, though there could be the odd spot of rain. Drier and brighter but cooler and breezy conditions spreading south across Scotland, N. Ireland and the far north of England, though a few showers are possible across eastern Scotland.
With the cloud and rain across England and Wales along with cooler and breezy conditions spreading south across Scotland – a cooler day for all compared to recent days. Temperatures reaching 15-18C, perhaps 19C across far SW of England, cooler across the far north and northeast where there'll be a brisk northeasterly wind.