With a few days of spring to go (meteorological spring runs March, April, May) England and the UK have, provisionally, had their sunniest spring on record. England is heading towards one of its driest Mays since records began back in 1862. The full Met Office statistics will be out on Monday.
A few spots in Britain could meet the Heatwave criteria by the end of the month. Three consecutive days at or above a set heatwave threshold temperature which varies around the UK. The highest temperatures today are forecast for northern Scotland up to 28C, with very warm air and a southerly wind. And with this ongoing lack of rain, the fire risk is high.
On Thursday, Northern Ireland reached 25C, Devon 25.5C and Leuchars in Fife 25.7C. Western and northern parts of the UK experiencing the warmest air as it flows around a high pressure away to the east. A breeze off the North Sea kept the temperatures a bit lower for SE Britain and this flow, off the cool sea, will be more of a factor through the weekend.
It will be very warm, sunny and dry. Lockdown is easing and it's the weekend. There are new guidelines, but the message is still to stay at home as much as possible and limit contact with other people. Also, do remember your sunscreen if you go out for a while, UV levels are high, even very high in the south. There is no point staying at home but getting burnt in your garden or when returning to the golf course.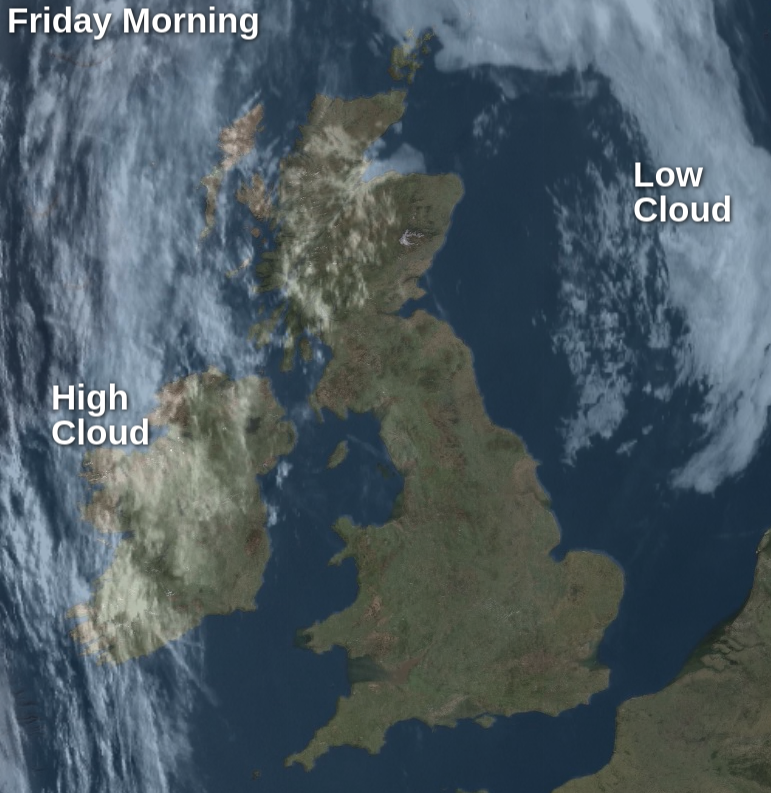 The Visible image from earlier shows the clear skies over the UK with high pressure centred in the North Sea. There is cirrus out west from a front over the Atlantic, being kept at bay by the high which stays over southern Norway into early next week. There is low cloud in the Moray Firth and low cloud way out in the North Sea. Today is all about the sunshine as the lack of rain continues.