That was quite a bank holiday weekend. The wild conditions of Friday and Saturday as a deep Atlantic low passed by the NW and then warm sunshine on Monday as temperatures reached 26.6C in Teddington, SW London and 25.6 in Lincolnshire.
It stays warm for south-eastern Britain then southern Britain today and tomorrow but later in the week, the warm air will extend north throughout the UK with temperatures into the 20sC.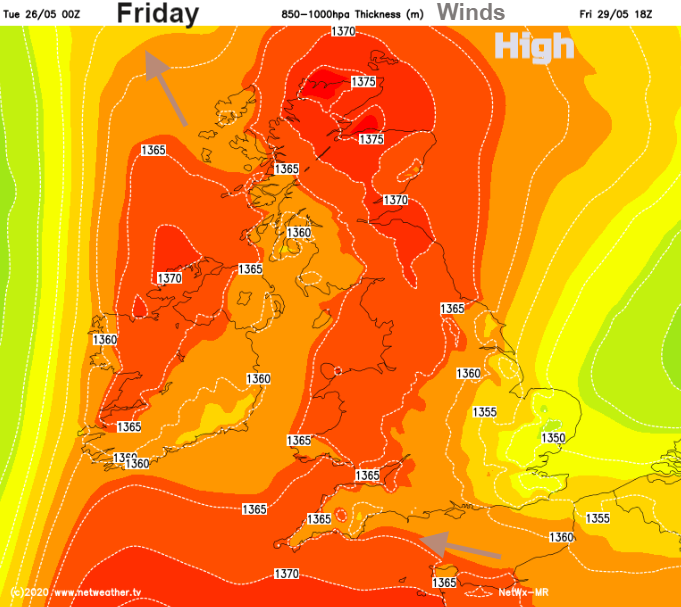 If you are looking for rain, there is very little for the end of May. A little drizzle this morning which disappears as the cold front heading south fades. This frontal band is bringing more cloud today. High pressure bringing more settled, fine and warm weather but staying dry and just a few Atlantic fronts brushing by Northern Ireland and western Scotland with rain for the far NW of the UK.
Today
SE England will be warm and sunny today with very light winds and temperatures in the mid 20sC, London up to 26C. The fading cold front will bring more cloud over the rest of England and Wales, making the SE sunshine turn more hazy later in the day. However, most areas will see brightness, even sunshine coming through. The winds will be very light and temperatures will be in the high teens, low twenties C although with a NW breeze off the Irish Sea so only 16C for Blackpool but 19C for Skegness on the east coast.