UK - Hottest Day of the Year so far on Wednesday 20th May with a top temperature of 28.2C (83F). Of course, it's getting warmer at this time of year and we will see the "hottest day of the year so far", quite a few times. But Wednesday 20th was very warm for most of the UK and the forecast looks wild by Friday. So, in these strange times of COVID_19 a grasp of warmth and sunshine can lift the spirits and might need to be recognised. England saw the highest temperature (not hottest temperature, that's not a thing for a number), 28.2C at Santon Downham in Suffolk. 26.4C in Hawarden, North Wales and 24.2C at Aviemore in the Scottish Highlands.
Holbeach in Lincolnshire had seen 28C on Wednesday, Llysdinam 25.2C in Wales, northern England over 26C with Sheffield reaching 27.6C. London Heathrow reached 27.8C Northern Ireland had reached 23.0C on the 9th May and that still stands as the highest temperature of the year. The top temperature in Northern Ireland was 20.6C on Wednesday and it will be cooler today.
England had seen 26.2C the day before, the previous hottest day of the year. 28.2C might get beaten again today in SE England but there is some cloud and a few showers about.
These changes during Thursday bring some uncertainty surrounding the risk of thunderstorms, mainly for SE Britain. Across the UK, temperatures will rise into the high teens and 20sC.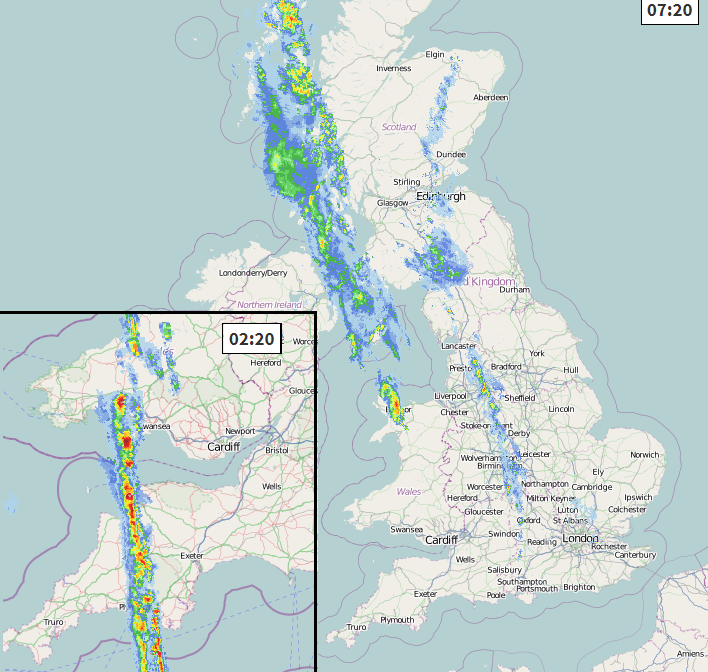 However, the forecast is going to take an autumnal turn by Friday with gales as a deep Atlantic low passes by bringing some welcome rain.