That wind will ease. Quite shocking for a Monday in May. It's down to high pressure over the NW of Europe and low pressures over central Europe, resulting in brisk winds for SE UK.
High pressure often suggests fine, settled weather with steady conditions. However, it is all about the position of the high and wind direction but also the cloud cover. In winter, a high can bring low temperatures, under clear skies with winter sunshine but add lying snow and there is extreme cold. In summer, the heat can build with days of dry sunny weather and often poor air quality. May can be an awkward month. The "cast ne'er a clout til May is out" weather proverb reminds us that the shorts and T-shirt of one day could be a great mistake the next. The same can be said for forgetting your sunscreen though.
Temperatures are below average. We have Arctic air drawn down around the High pressure to the NW. The source of the air is important for forecasting around a high pressure. Out of the window, the sunny scene may look inviting but the reality is quite different in the wind. There have been clear skies for many although with some low cloud drawn off the North Sea. As the winds ease down on Tuesday and Wednesday then the risk of frost does become more widespread.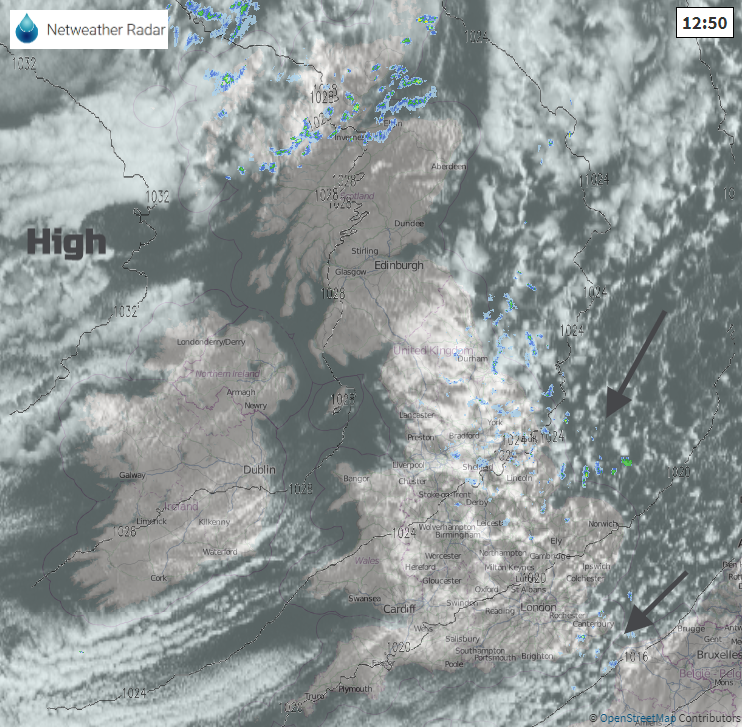 I'm worried for my runner bean and broad bean plants that are out in a raised bed in southern Scotland. Monty Don hasn't even put his out yet on Gardeners World. Temperatures dipped below zero early on Monday and colder air is forecast behind Tuesday's cold front for early Wednesday. So, a widespread frost for northern Britain with the risk of wintry showers and ice for Scotland.