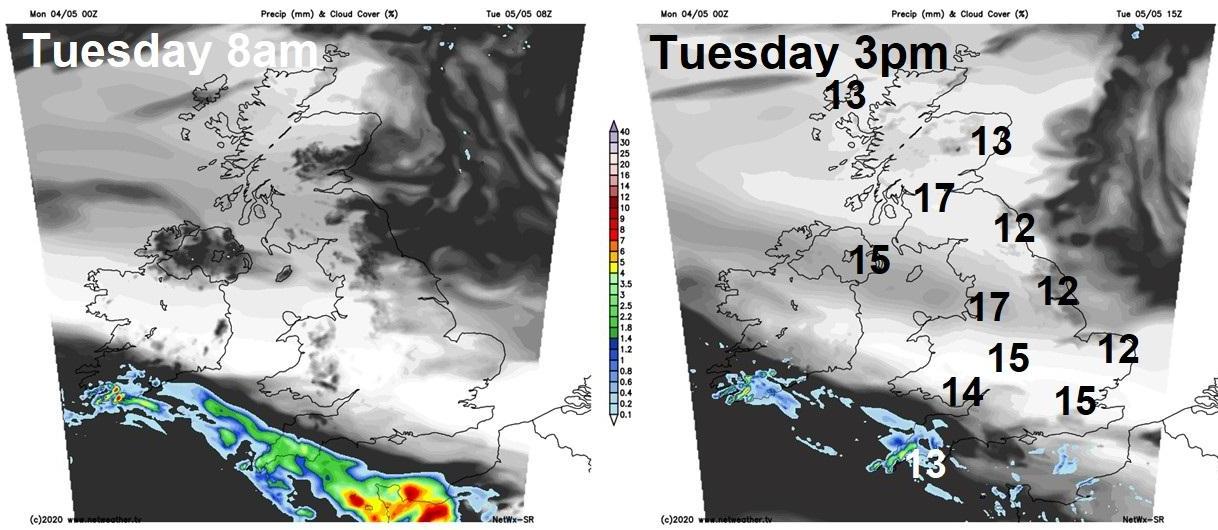 Wednesday
High pressure firmly planting itself over the UK on Wednesday, with most places having a dry and fine day with plenty of sunshine, temperatures creeping up too, with highs of 18-20C inland from central Scotland down to southern England, cooler around coastal areas with temperatures reaching the mid-teens at best. More in the way of cloud across Devon, Cornwall and parts of Wales could bring the odd shower, more particularly towards Atlantic or Celtic Sea coasts.
Thursday & Friday
Another largely dry and sunny day in-store on Thursday with high pressure in control, though thicker cloud spilling off the Atlantic across Ireland, N. Ireland and the far west of mainland UK could bring a few showers. Temperatures widely in the high teens or low twenties away from coasts.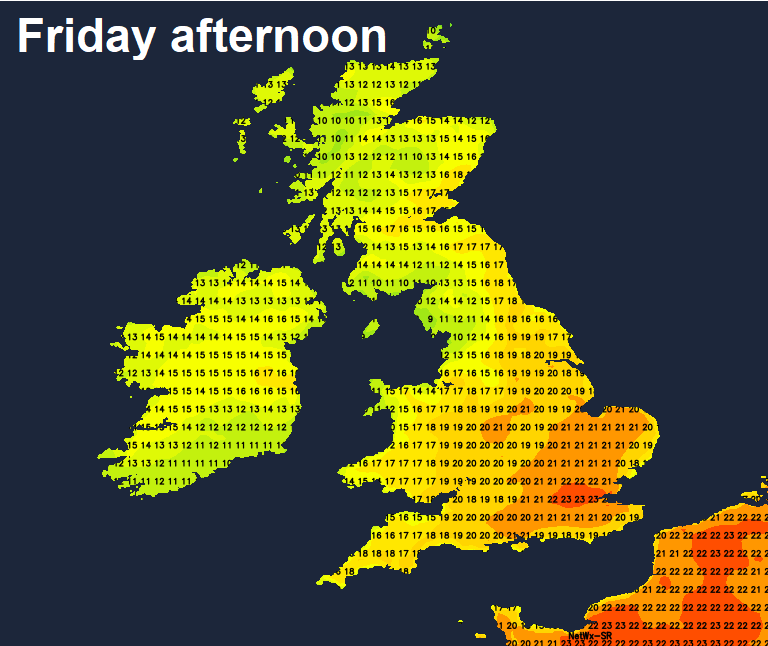 Perhaps more in the way of cloud with a risk of showers for northern and western areas on Friday, the best of the sunshine and warmth across central, southern and eastern England – where temperatures will reach 20-23C inland.
Weekend
Saturday warm and bright across England and Wales, but perhaps a risk of heavy showers developing in places. Mostly dry but turning cooler from the northeast across Scotland, perhaps some showers reaching the far north later in the day. For now, it looks like turning colder across all parts on Sunday, as increasingly strong northeasterly wind develops, sweeping in cold arctic air. Perhaps dry and bright for many, but the northeast of Scotland could see some wintry showers, with some showers spreading down along eastern coasts further south. Temperatures in high single figures or low teens at best.