Wednesday
Another largely dry day on Wednesday. A weakening cold front slipping south across Scotland and N. Ireland will bring a band of thicker cloud with a little patchy rain here and there, though clearer skies moving in across the far north of Scotland. Otherwise, much of England and Wales will have another sunny day, though more in the way of cloud building than today, which could bring an isolated sharp shower in places, but for most it will stay dry. Warmer than today though across England and Wales, with temperatures reaching 16-19C across northern England and Wales, central, southern and eastern England reaching 20-23C. Scotland and N. Ireland cooler with the cloudier skies – reaching 10-14C at best, perhaps only 8C in the Northern Isles.
Thursday
High pressure still in charge on Thursday, bringing a mostly dry day. A weak slow-moving front will bring more in the way of cloud across northern areas, and it will feel chilly towards eastern coasts with an onshore breeze too, but still with some brightness or sunny spells, temperatures ranging from 9C along eastern coasts to 13C inland. The clearest skies and long sunny spells across central and southern England – where temperatures will reach 19-21C, though again, cooler along eastern coasts.
Good Friday
All change as we head through Good Friday, with pressure falling from the west and one or two fronts bringing cloudier skies, cooler temperatures and showers moving across most parts, perhaps longer spells of rain for the northwest.
Turning unsettled and cooler Good Friday and through the Easter Weekend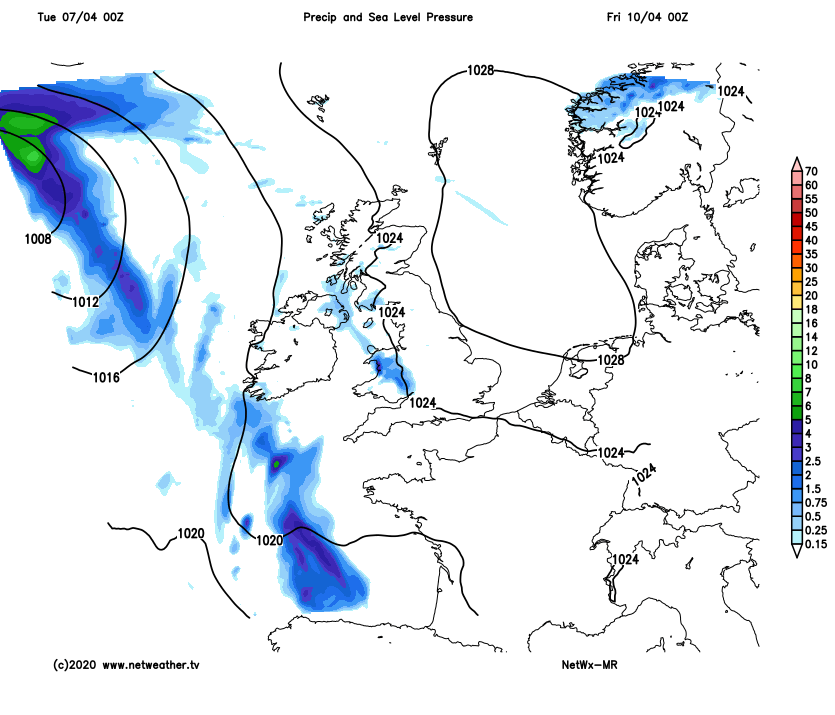 Easter Weekend
An unsettled and cooler theme through the Easter Weekend, with low pressure taking charge, with showers or longer spells of rain affecting many areas, but there will be some drier and brighter spells too, increasingly so across the north on Sunday, with northern areas drier and sunnier on Easter Monday as high pressure builds, while showers become confined across southern areas. It will turn increasingly windy though.