It's been a wintry start to the day, with parts of the Northwest of England and Scotland waking up to a fresh covering of snow, even at lower levels. Further south, low pressure has brought a mix of rain sleet and snow, which will slowly clear southeast this morning. Any settling snow here has been reserved for higher ground, lower down any wintriness is mostly comprised of wet snow or sleet.
The wintry mess should clear the southeast corner by lunchtime, leaving the whole country with some spells of sunshine, but also a scattering of wintry showers. These will be most frequent in the north and west. It'll be another cold feeling day, with a fresh northwest wind blowing, so while temperatures will range from 4-7c this afternoon, it'll feel more like -4c to 3c.
A cold night follows, with a widespread frost to start, The wintry showers in western Scotland will continue though, and thickening cloud from the west will slowly raise temperatures here. Rain with some sleet and snow over the hills will start to move up from the southwest into Ireland by midnight, getting into southwest England and Wales during the early hours. That'll then spread its way northeast during Friday - bringing some heavy rain at times - particularly across Wales and Northwest England, and also the potential for some accumulating snow up over the high ground of northern England and Scotland.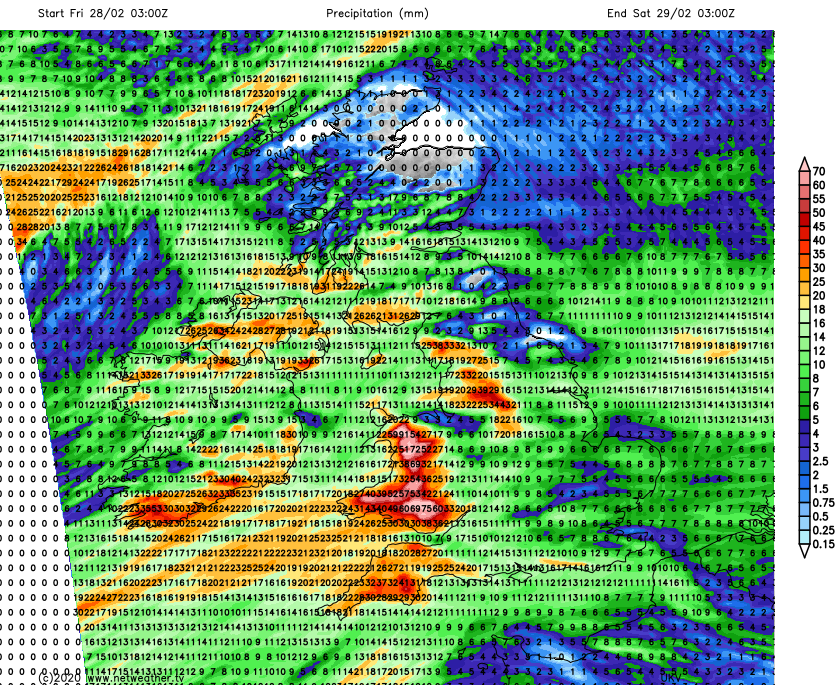 There are Met Office warnings issued for the rain during both Friday and Saturday currently, with the flooding situation likely to be worsened once again, unfortunately.