A cluster of wintry showers over central and southern England will continue to head east during the evening and overnight, with some snow in places. Once that's cleared away though, most central and eastern regions will be dry, but a scattering of showers will continue in the west. There'll be quite a widespread ground frost by dawn, with icy patches likely.
Tomorrow (Wednesday) will be very similar to today, with sunny spells and wintry showers. The west and north will see the bulk of them, but some will make it further east at times. The snow will continue to accumulate over the hills and mountains of Wales, Northern England, Scotland and Northern Ireland, so travel on higher routes is likely to be tricky. On the flip side of that, the Scottish ski resorts should have some great conditions, with Glencoe and the Nevis Range in prime position to catch a lot of snow.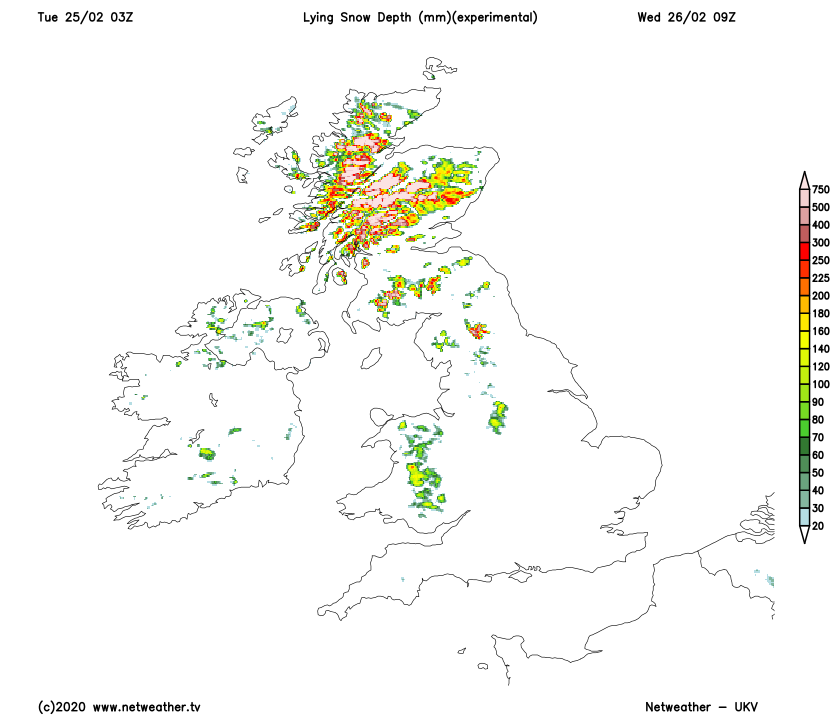 Overnight Wednesday and into the start of Thursday is then a period to keep an eye on. The reason is a low pressure system approaching from the southwest, which at the moment is looking set to run along the English channel, give or take. If you're a snow fan, the prospect of a 'Channel Low' bumping into colder air can be a mouthwatering one, as it can bring copious amounts of snow when conditions are right. On this occasion, the air isn't going to be quite cold enough for that, but there is the possibility to be some hill snow across southern and central England, and Wales, along with more persistent rain lower down. There is some uncertainty over the track and northern extent of the rain and snow at this time though - so keep an eye on the latest forecasts for updates over the next 36 hours or so.
All that should clear away during Thursday to leave plenty of bright or sunny spells, and a scattering of still wintry showers. The next low pressure won't be too far away though, moving in for Friday and spreading rain and hill snow northeast across the whole country. It'll be windy too with gales in places. The low will then clear into the weekend having brought a brief milder blip, but colder air will then return with some snow likely.