Before the rain arrives from the west, a cold and bright start this morning, with local frost and fog patches, away from the northwest and far west where the cloud and rain is setting in. Mostly dry and bright for many before the rain arrives through the day, sunny spells and showers following the band of rain through the afternoon across Scotland, N. Ireland and northern England. A milder day for all, temperatures reaching 7-9C across Scotland, 9-12C across England, Wales and Northern Ireland.
Tonight
Remaining cloudy across southern and south-eastern England with patchy rain becoming more persistent and continuing for much of the night as that front moving southeast today becomes slow-moving here. Elsewhere it will become largely dry with clear spells, with showers fading across the north. Cloud and patchy rain moving in across N. Ireland later in the night and becoming very windy across the far north and northwest. Chilly overnight across central and northern areas, with temperatures dipping into low single figures, mild in the far south with the cloud and rain.
Saturday
The weather quickly going downhill Saturday morning as Storm Dennis arrives to the northwest, any dry conditions not lasting long as cloud, outbreaks of rain and strengthening winds sweep in off the Atlantic across all parts through the morning. Becoming very wet across all parts through the day, rain particularly persistent and heavy across Wales and western parts of England. Gales developing too, gusting to 50-60mph locally inland, 60-70 mph around coasts and over western hills. Heavy rain coupled with strong winds will create difficult travelling conditions, with some travel disruption possible from flooding and high winds. Storm Dennis whipping up some rough seas too, with risk of coastal flooding with high tides around southern and western coasts. Despite the wet and windy conditions, it will be rather mild, particularly in the south – where temperatures will reach 12-14C, in the north reaching 9-12C.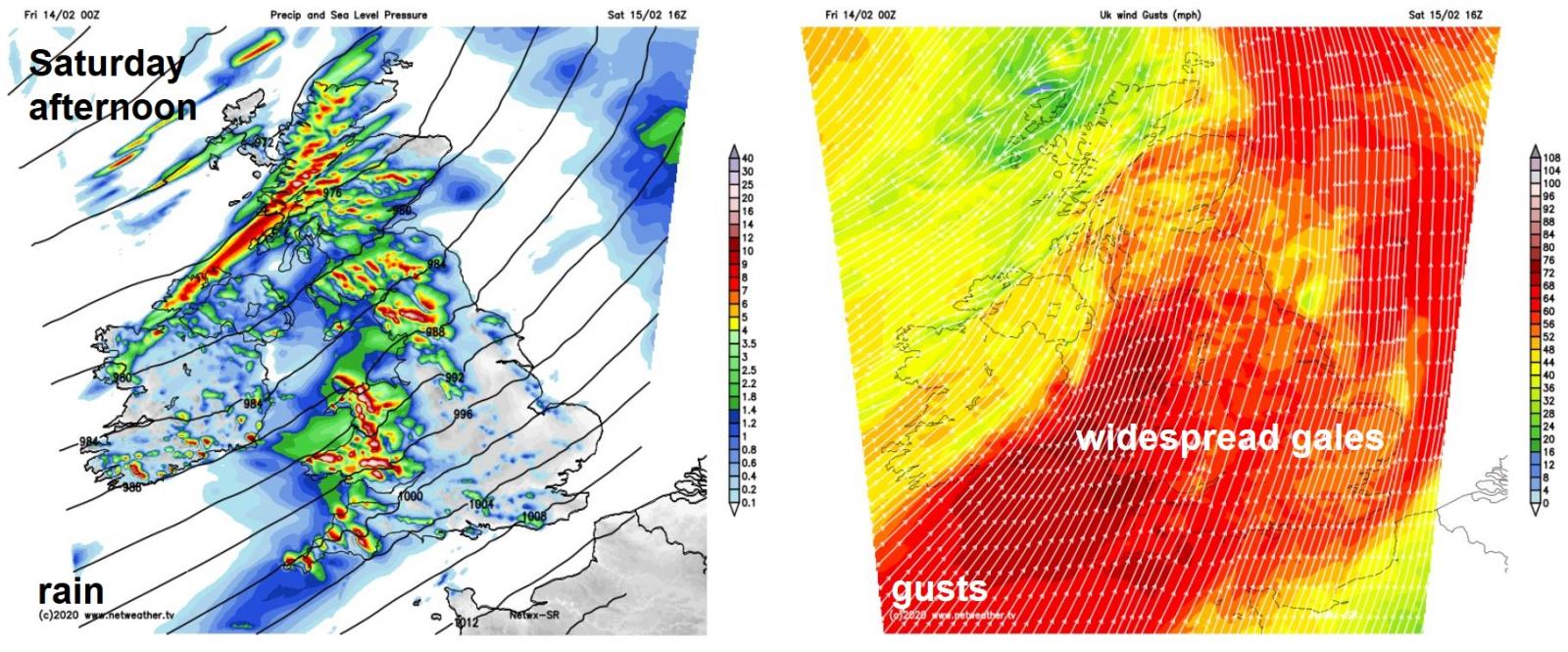 Met Office Rain & Wind Warnings in force for this weekend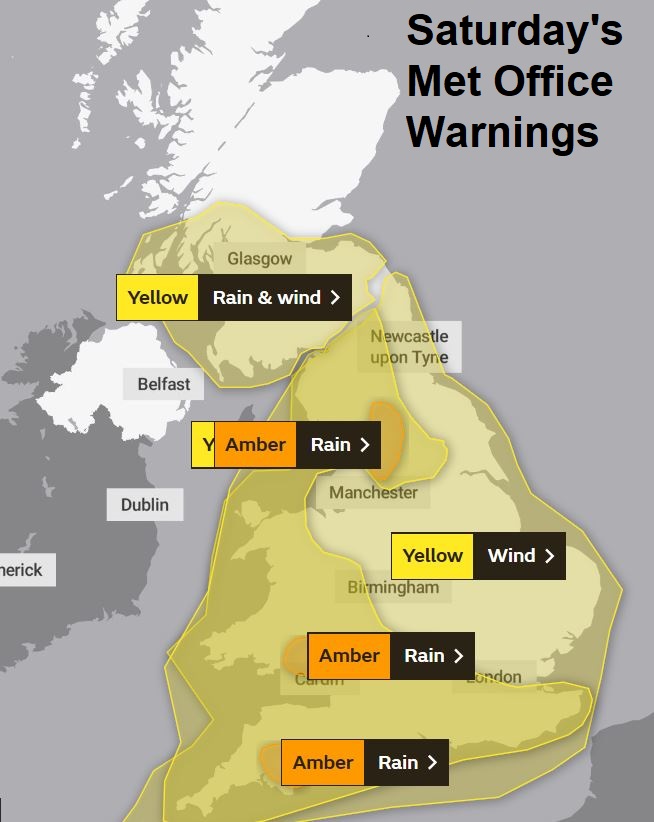 Sunday
Persistent rain, heavy at times, continuing through much of Saturday night and Sunday morning across England and Wales, colder, clearer but showery conditions for Scotland and N. Ireland, showers wintry over higher ground. Gales continuing across many parts overnight into Sunday. Heavy rain will gradually clear southeast across England and Wales, though perhaps not clearing the far southeast until early evening. Clearer and colder conditions following the rain to the north, but with squally showers across northern and western areas, which will turn increasingly to snow over higher ground of Scotland. Strong to gale force winds across all parts, before a swathe of severe gale force winds arrives across Scotland later in the day. Very mild in the south, colder across Scotland.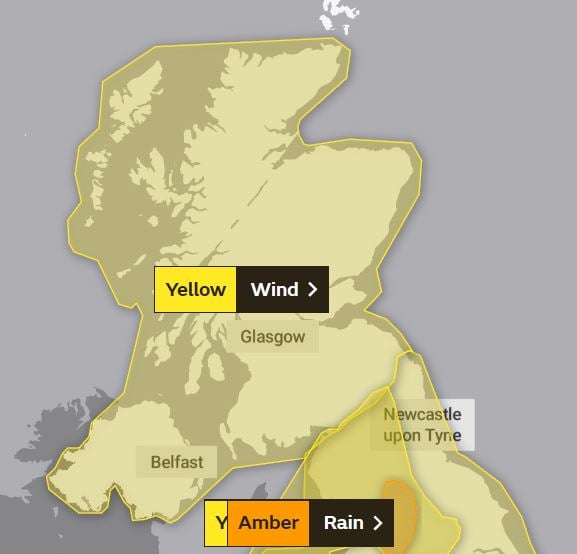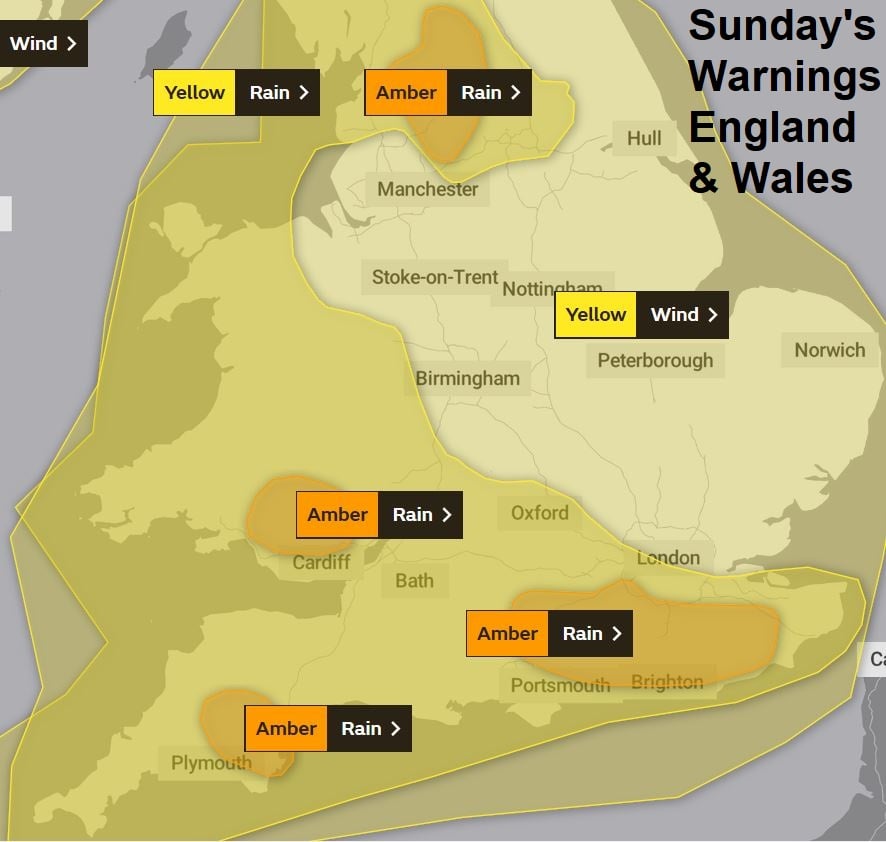 Next week
Windy again on Monday, gales for a time across the north before easing into the afternoon, sunny spells but also some squally showers passing through many areas, most frequent in the west, wintry in the north, colder for all parts too. Continuing unsettled and windy at times for the rest of the week, spells of rain or showers at times, though southern areas tending to become drier during the second half of the week.