Snow is nothing unusual for the end of January, but it's something that's been rather absent this winter so far, even in Scotland. But, an increasingly cold airmass sweeping in from the west, sourced from the Canadian arctic, has allowed showery rain spreading in from the west to turn increasingly to snow overnight across the north, even to lower levels across Scotland and parts of N. Ireland. Bringing a covering of snow to start Tuesday. Today will be a cold and windy day, with further showers, mostly in the west and wintry over higher ground. A ridge of high pressure builds in on Wednesday, with mostly fine and dry conditions across England and Wales and again on Thursday, turning wet and windy with hill snow across Scotland on Wednesday and another spell of rain on Thursday. Turning milder across all parts from mid-week. On Friday brisk southwesterly wind will usher in cloud and outbreaks of rain for most parts, temperatures widely in double figures.
Today
There's been rain, sleet and some snow overnight moving across the north, snow falling to lower levels across Scotland and Northern Ireland, while further south settling snow had been confined to higher ground of northern England. So there is a risk of some snow accumulations in places in the north, which may lead to some treacherous driving conditions this morning, particularly over higher routes, while at lower levels there is a risk of ice on untreated surfaces from overnight precipitation, as temperatures are widely close to freezing at daybreak. As low as -6C in the northern Highlands. Met Office Warnings for snow and ice are in place across the northern half of Britain.
The hills of Wales and moors of SW England may also have got a covering of snow from overnight wintry showers here. But across central, southern and eastern England it's been rain showers overnight in places, though for most it's a dry and bright but cold start away from western areas where showers continue, with temperature a few degrees above freezing widely.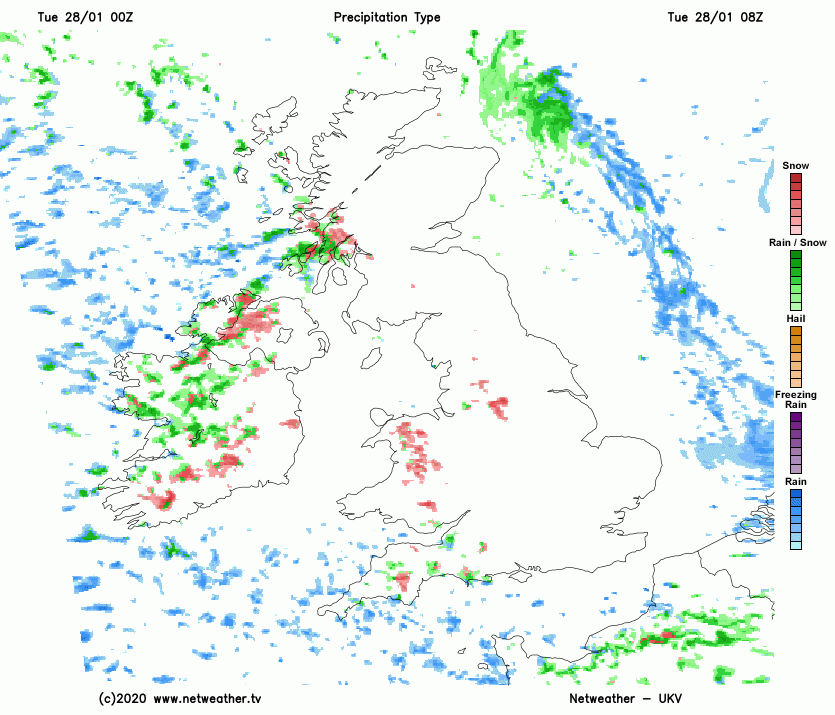 Overnight rain, sleet and snow has moved away from eastern Scotland, to leave a mostly dry and bright start here, but there are further wintry showers in the west and the general theme is for scattered showers affecting mostly western areas for the rest of the day, mostly rain at lower levels with hail locally and falling as snow over higher ground in the north, though the snow level rising through the day. The best of any dry and sunny weather across eastern Scotland, central and eastern England, though even here we could see the odd shower.