"Snow and ice may cause travel disruption during Monday night and Tuesday morning."
Although the wintry showers continue to flow in from the west overnight into Tuesday morning a low pressure centre is forecast to develop tonight and could bring more significant snowfall as it moves across Britain.
The UK Met Office has the main snow warning over Scotland for the south, east and central areas. The Scottish ski resorts have already seen some snow for the start of the week from the showers but not enough.
"An area of sleet and snow is likely to move eastwards overnight, followed by a few wintry showers. Surfaces then freezing, leading to icy stretches. There is a small chance that up to 5 cm of snow could fall down to sea level. Snow over high ground is much more likely, with 5-10 cm above 250 m and as much as 15 cm above 350 m."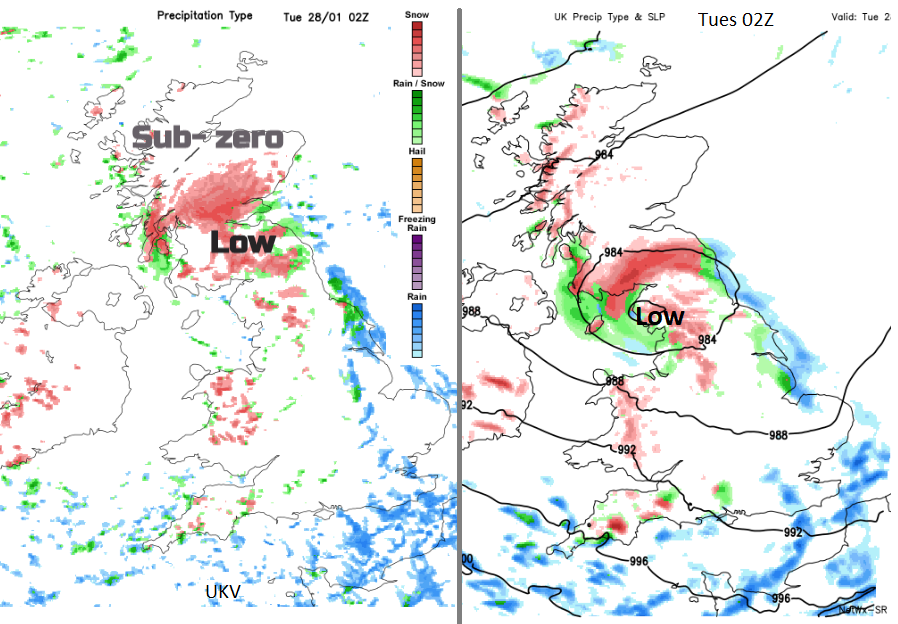 There are some differences in the model output. The UKV model, which is from the UK Met Office takes the snowfall across Scotland and off into the North Sea. Wintry showers for Northern Ireland Monday evening, snow over the hills then the main precipitation in the small hours over Scotland heading NE with not much left by morning. A bit of snow still falling for Grampian around dawn with a few more showers from the west.
Looking at the SR model based on the GFS there will be more snow and rain showers for Northern Ireland and Wales this evening, but the low centre deepens over the Irish Sea and heads over Cumbria. This will bring stronger winds and the focus of the snowfall to southern Scotland and more of northern England. And potentially still falling snow for SE Scotland and northern England on Tuesday morning as more people are on the move. Again, still with wintry showers following from the west on Tuesday. The Ice warning from the Met Office mentions a risk of wintry weather but keeps the snow to high ground.
"Wintry showers and ice leading to some travel disruption. Showers of rain, hail and sleet are likely on Monday night and Tuesday morning, leading to a risk of ice on some surfaces as temperatures fall below freezing. Some snow is also possible, but mostly restricted to high ground above 200 metres where a few centimetres may settle."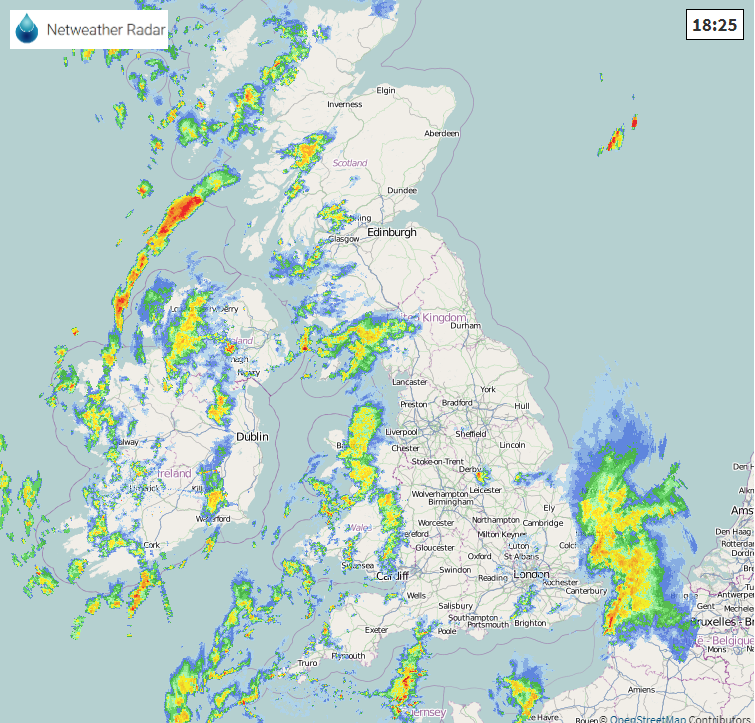 So just because you don't have a snow warning in your area do keep an eye on the radar this evening as things begin to develop and maybe leave a little extra time in the morning as northern areas and Wales will be icy first thing. With lying snow for a few places too.