Many places saw glorious blue skies on Monday, however, the sunny skies will become confined to the south today, as high pressure shifts west to allow cloud to spill south across northern areas. The general theme after today is for most areas to see grey skies with extensive low cloud for the rest of the week. Though with high pressure still in charge, it will stay mostly dry in the south, what meteorologists 'anticyclonic gloom'. We will see a change though over the weekend, as high pressure loses its grip and allows Atlantic systems to return, with more unsettled and windier weather taking over from Sunday.
Today
For now, a north – south contrast across the UK to start Tuesday. It's another frosty start across the south with temperatures in some spots as low as -4C at dawn, and there are also some dense freezing fog patches in places across southern England and south Wales. There's more in the way of cloud across the north this morning, so it's milder here with temperatures as high as 9-10C, the cloud thick enough to bring a little rain across parts of western Scotland.
High pressure will still be in charge today and will be for much of this week. Southern England, south Wales, the Midlands and East Anglia will stay dry, where there is freezing fog patches these on the whole will lift and clear through the morning, with most seeing good sunny spells through much of the day, though there is chance some fog patches may linger. Generally cloudier across Scotland, N. Ireland, north Wales and northern England. Western Scotland will continue to some patchy light rain and breezy here too, eastern Scotland and NE England seeing some bright or sunny spells though.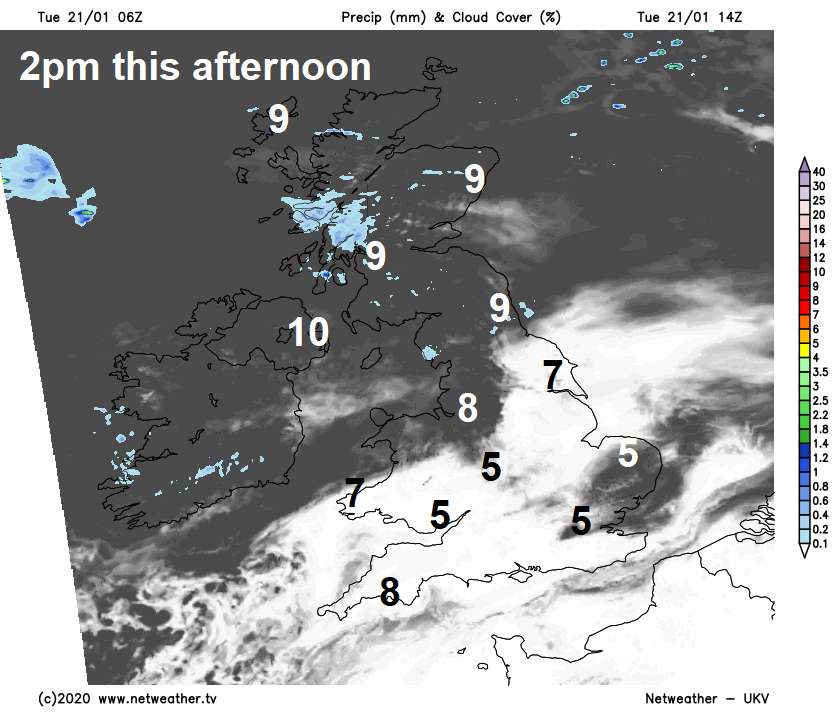 Temperatures struggling across the south after the cold start, despite the sunshine, especially where fog lingers, reaching 5-7C at best. In the cloudier north a milder 8-10C.
Tonight
Cloudier skies across the north tending to spill south across most parts of Britain overnight, so not as cold as last night across the south, though there maybe an early frost and some fog patches across southern most counties and perhaps some eastern counties of England before the cloud rolls in later in the night. Some outbreaks of rain continuing across western Scotland, some patchy drizzle elsewhere across the northwest.