We're going from one extreme to another, as a large anticyclone becomes established across the country over the coming weekend. By Sunday we could be seeing unusually high barometer readings as it becomes much quieter but also somewhat colder, with frost and patchy fog at night. But for the meantime, it remains very mild and windy, with a band of rain crossing the country from the West today.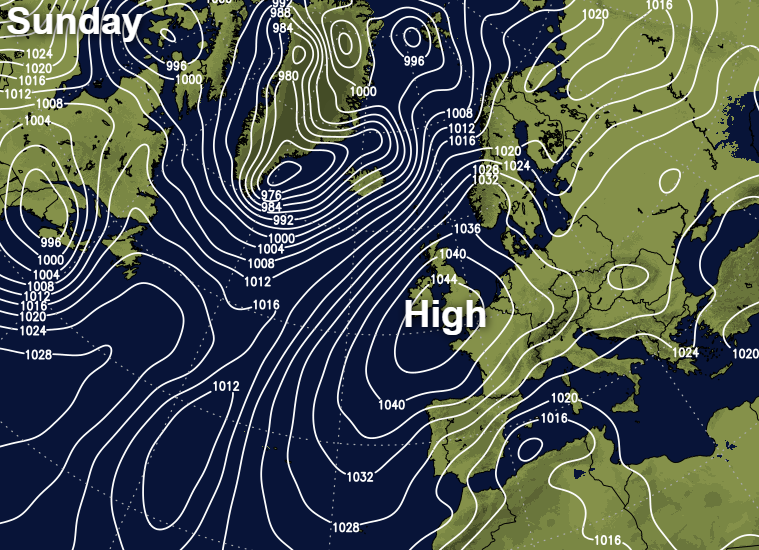 Apart from a few showers over Northern Ireland and some rain over West Scotland, it's a mainly dry start but it won't last. Persistent and at times heavy rain will soon reach Northern Ireland and the South West before working its way across the country, reaching all but East Anglia and the South East by dusk. By then the West of Wales, the South West and Northern Ireland will have turned clearer, but with a scattering of blustery showers.
Another thing you'll notice will be the strength of the wind, that'll freshen markedly ahead of the rain. A South or South Easterly wind will become fresh or strong, with gusts to gale force quite widely. In the North and West and exposed areas, gusts of 55 to 65mph even 70mph are likely for a time, before winds 'veer' South Westerly and decrease a little in the West later. Although feeling chilly in the East at first, temperatures will rise steadily to reach a very mild 8 to 12C eventually.
Central and eastern areas have a wet evening with bursts of heavy rain before clearer weather moves in from the West, but it'll probably be well into the night before this finally reaches the South East. Elsewhere broken skies will allow clear intervals, but there'll be showers especially over Northern Ireland, Scotland and in the West, where some will be heavy and blustery. After a brief lull in the East, a South West to southerly wind becomes fresh again in most parts, with gales still likely in the West and over exposed coasts and hills. A touch of ground frost is possible in a few well sheltered eastern areas, but for most temperatures shouldn't fall below 5 to 8C.