Thunder?
Local
Radar
Pollen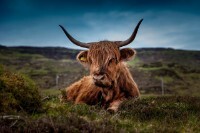 About This Group
A new place for those in Scotland to chat about the weather and their daily lives.
What's new in this group

Finally got a mobile data signal at the house again, but still no power and SSE outage tracker has changed from 6pm 30/11 to 5pm 1/12 for our postcode so looks like we'll be onto day 5. I know we are rural and we were always aware that power cuts were therefore likely, but we're not THAT rural. As @Quinachsaid, SSE communication has been awful really. We plugged in a backup corded phone on the land line, so could call 105, but the messages are so general they are pointless. The only way we found out about the free burger van (lovely roll and sausage for lunch) and showers in Alford was from the assistant in the local garage this morning. I know this is virtually unprecedented, but they need to learn, especially directing people with no power or mobile signal to check thier website. That made me physically laugh out loud. If our friends in Kemnay are right on the level of compensation you can claim then we're up to nearly £500 already just for the length of outage. We WILL be making a claim and it's likely we'll use whatever we get towards reducing the impact if it happens again e.g. a small generator of some sort, or battery backup? Oh, and now I can see models, forecasts etc again, looking chilly for the foreseeable.

Sat I car just outside Alford for 4G signal as we hit the 4 full days without power milestone. Still managing to keep warm and fed and even got a shower yesterday at friends in Kemnay, as they got power back on Sun eve. We had lying snow for a couple of days, most probably around 3 to 4cm on Sunday evening. Milder now so all gone except for where it was piled up. Hopefully power will be back soon and I can catch up with how every one else fared.

You can pick up a 2kVA generator for a few hundred pounds. That would be enough power to run the central heating pump and some lights. Existing wiring at the electrical consumer units would have to be modified and a changeover switch fitted but that's not a huge cost. If you're self employed or Ltd Company, you could put all the costs through as a business expense. This is the route I'm going down When storm Frodo rocks up I'll be prepared.

Parts of Banchory lost water again last night but have it back once more, the Inchmarlo retirement village lost power on Friday night and are still without. What makes it worse for them is that before covid, the residents would have been able to go to the big house for meals etc but to keep the most vulnerable residents in the nursing home safe, that's not allowed now. Our local gym have been fantastic and since they got their water and power restored have been cooking and delivering hot meals to the residents of the houses. The journey to work in Stonehaven has been an eye opener tho with the number of wooded areas looking like they've been clear felled. Still not managed to drive over the Slug road tho as there were still a couple of trees causing problems but they've been dealt with today I believe. Thankful for how lucky I've been over the course of the last few days compared to many on Deeside however. Weather today is just meh, chilly, damp and dreich.

Storm Arwen postscript: worst impact we've had from a storm since we moved here back in 2014. Power (and internet and mobile phone signal) off from early Friday evening until just after midnight on Monday morning. The wind sounded genuinely dangerous from 6pm on Friday through to the early hours of Saturday morning. Trees down all around the village and extensive damage and debris. Some poor souls in outlying areas are still without power. Wet snow on Friday evening and then further light snow on Saturday and overnight into Sunday. Milder blip yesterday and today, then looks like it's turning cold again for a while. A lively start to the season. Am very much hoping that the storm component of it begins and ends with the letter A. Hope all well and safe.

Horrible dreich morning of drizzly rain . Calm and 4.5c. Temperature may be higher than of late but feels a lot colder than previous days thanks to the high humidity. Fourth day of no power and so thankful that our cooker is propane! Communication from SSEN has been atrocious, the only useful information is coming via Local Facebook sites. Heaven help anyone with no mobile data. Definitely lessons to be learnt, and I do hope SSEN get hammered with claims as convinced now a lot of the damage was preventable if they had done proper line maintenance/tree clearance.

I've just seen some muppet on twitter moaning that she couldnt use her electrc toothbrush, My god the hardships and suffering some people are going through And a pic on the BBC of piles of dirty dishes beside a sink... have these people never heard of paper plates? god sometimes you wonder what you share a planet with!!

tbf tonight up to 120 pretty decent agreement of cold weather. I attach latest gfs for Sat and UKMO for Sunday .... it does feel like could be an old school winter with such intense cold to NE already there, and no traditional spoilers like energy in the atlantic or pesky azores high. Even if the weather is not severely freezing and snowy it does appear we could be in for plenty seasonal weather.

Today wasn't really much of a day at all. More of a short, slightly less dark bit in between two nights. Temperature is now the highest of the day at 9.3⁰C, humidity is 94%, wind is 1 to 6mph westerly with a maximum gust of 10mph at 18:09, pressure is 1007.1hPa steady, there's now been 2.6mm of rainfall today and the sky is dark but I'm assuming still 8/8 overcast.

Hope those still without power get it back soon, was off for 24hrs here so not as grim a wait. The wifi

[email protected]

it and legged it though. Yet to return. Managed below zero all weekend with bouts of heavy snow so felt like a wee dose of winter proper. 5 above now with rain forecast tomorrow. Happy for the freeze to hurry back. Couple of weekend out and about pics, one from these parts and another in the National park.

A slow rise in temperature all day and now at a balmy 6C. A frosty start then a damp morning. Some brightness this afternoon. Power in this area now back on though there are bits up in Highland Perthshire still out. Only signs of the storm locally now are a couple of fences down in the North facing street round the corner.

I see the madhouse has gone into complete meltdown . I'll do my usual and wait until it's all at t+72 before getting too excited !

I'm sure it has all been said in the last 2-3 days already but just to add my 2p, we finally got power restored late last evening, friends and neighbours still don't have theirs. Just for perspective We have lost 600-700 year old trees but we are all safe, and managed to keep warm, as thankfully we are not "all electric". I love snow, (and am not really a newbie around these forums, just don't chat much these days) - but just why oh why did it have to come at the same time a storm had turned off the power (really cold!!) and no Mobile (so no pretty photos) - also cos of the ice/snow could not get car near enough to house to run the phone chargers, even when the mobile signal had came back However I would just like to thank Netweather and this forum for their balanced view cos on Friday morning when "red warnings" etc were coming out about "Arwen" I knew exactly where to check first (this forum, rather the press hype LOL) so had as much of a plan in place as I could (candles, anti-surge batons for power flickers, torches etc) as it turns out they weren't quite enough for our particular location but it was the best that could be done given the information We've had our scenery and garden view altered permanently and while that will grow back over the next few hundred years, it makes "chasing the snow flurries" a little less fun, this year anyway I hope everyone else up in our Aberdeenshire neck of the woods is still keeping well, I know there are massive community efforts ongoing to try to get Hot Food and drinks to those that may still be in need of them, so please if you know anyone that you are still out of touch with, try everything to let them know there should be somewhere local they can go, or will deliver to them, if they are in need. Just because you hear a "town" or "village" is now back on, do not assume it's all of it especially if you cannot contact someone you're trying to Stay safe all xx

-4c overnight, attended to quite a few vehicles which had crashed. Still only a smidgen above freezing, went to the beach today looking over towards NW England, snowy scenes for so near the Solway FullSizeRender.mov

as expected the drizzly misty stuff is heading back in still quite cold just not as cold as it has been. Hopefully a not too long warmer blip

There won't have been much other first weeks of winter that were looking like this surely, have been signals of high pressure wanting to build over Scandi but its the most notoriously difficult pressure pattern to model, mightily impressive whether it happens or not mind

All weather is good, but some is less good than others. Today's dull, damp, dreich, dismal disappointment is a case in point. Shut the curtains, back to bed. Temperature low was -3.8⁰C at 01:39 and now risen to 2.1⁰C, humidity is 93%, wind is 0 to 2mph south-southwesterly with a maximum gust of 4mph, pressure is 1010.5hPa steady, there's been 0.4mm of rain so far today and 1.0mm in the last 24 hours and heavy 8/8 cloud cover is dropping a fine veil of drizzle over everything. Kind of poetic but bloody miserable.

Fantastic day yesterday - max of 0.9C. View looking over toward the Tweed which runs right to left under the furthest hills and through the village of Drumelzier (hidden). -6.0C overnight so ninth air frost and still below freezing just now at 10.50am. Quite the wintry snap. Interesting to hear on the tv that the power disruption is, "three times worse than the 'Beast from the East'". Feel lucky here that our damage is limited to a 4m section of dry stoned dyke that's toppled into my garden.

Large parts of Aberdeenshire still without power and by the looks of the damage near here no prospect of it coming back on anytime soon. Luckily our power was only off briefly but is does always surprise me how unprepared many people are. Power cuts in rural areas aren't exactly unprecedented yet some people don't even have some candles or an alternative way of heating hot food and drinks. Being entirely reliant on one source that's carried by overhead lines is just asking for trouble.

Power still out and apparently looking at 10pm tonight at the earliest . Novelty of storm Arwen well and truly over. Thankfully our water and mobile signal have stayed up throughout, others in much worse state as even likes of Torphins have no water on top of everything else. Do hope the powers that be force an investigation into how bad things got as a lot of the power outages could have been prevented. Speaking to farmer friend over by Monymusk and he was commenting that most of the lines in the forests there were destroyed by falling trees, rather than poles getting blown down. He mentioned that over the last few decades the trees near the lines were getting allowed to grow higher, rather than felled early as in the past. Inference being that inspections not taking place as often and/or trees allowed to mature more for profit reasons. As ever, profit first it seems...

Power didn't go off here, and we only got a few flakes of snaw. Bet things are different back at the old house. No way of having a stove here in this rabbit hutch so if the elect goes off I presume the gas heating goes off with it - need to think of some way round that. I hate being reliant on one source of heating. Loads of roads shut, lots of power still off, village halls open for tea etc. Major disaster here in Ancrum - the village pub roof blew off and they announced they were closed. Until a local firm volunteered to work all weekend and fixed it. Pub now open with big log fires, hot food and free wi-fi

Chilly one this morning at 0c. Got down as low as -4c overnight which is comfortably the coldest night so far. Still a fair covering of snow from yesterday but that won't survive the day!

Good morning! Cold start -6°C with further snow overnight Thankfully power was restored 11.30pm yesterday. Still no Internet or mobile phone coverage. Central heating was left on overnight as the house temperature was down to 5°C. The commute home on Friday was terrible, the journey between Oldmeldrum and Colpy was the worst conditions I have driven in. Trees were clattering off each other, blizzard conditions at times whiteout. Driving through tree lined sections, debris was falling onto the car. Honestly, my nerves were shot. Further along the road a tree collapsed 20 meters in front of the car. The same tree took down a wall and wrecked a parked car. Arwen certainly wasn't messing about....