Latest News....
Extra Radar V6 now online - many new features including 2 hour animation, ATD lightning detection, new high definition scale & more...
1 Month: £3.49
12 Months: £23.95
If you're not totally satisfied with your subscription to the Netweather Extra Radar, just let us know within 7 days and receive a full refund. (applies to new subscribers only)
"The 5 minute weather radar is a major advance. It's amazing to think that we now have access to what was only available to met' office forecasters a few years ago. When my p.c was poorly a few weeks ago and the only weather information I had was the various t.v and radio forecasts I felt like a blind man in the dark ages. Netweather Extra is not only addictive, it's indispensible." - TM, Derbyshire

"All in all though this is very impressive and by far the best rainfall radar data product I have seen to date." - DW, Manchester

"As a new subscriber to your site I find the radar great!! its great to finaly be able to see how much rain(snow!) is heading our way and I can now make plans for outdoors with a good idea of what to expect." - BHS, Ireland
The UK's Most Fully Featured Weather Radar
Tired of being caught out by the Rain, Sleet or Snow?
Experience the most featured & accurate weather radar in the UK. Using the high resolution radar which is updated every 5 minutes you'll be able to stay up to date with the very latest weather situation. You can even track the latest weather to your home, work or favourite golf course with custom & postcode zooms.
Plan ahead with confidence!
1 Month £3.49 -- 12 Months £23.95
Click Here To Subscribe Today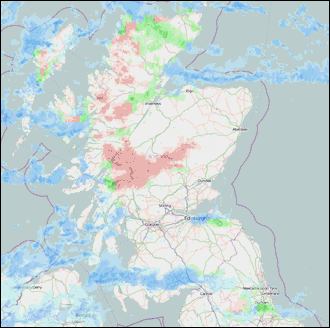 (Screenshots from the V4 radar)
Free Radar vs Extra Radar
MouseOver question marks for more information.
| | | |
| --- | --- | --- |
| Feature Type | Free Radar | Extra Radar |
| Update every | 15 minutes | 5 minutes |
| Weather Type Detection | | |
| Lightning Detection | | |
| Zoom Levels | 3 | 7 |
| Postcode Zoom | | |
| Save Postcode and Settings | | |
| Animation | 1 Hour | 1 or 2 Hours |
| Live Archive | 2 Hours | 24 Hours |
| Euro Radar | | |
| Colour Scale Options | 1 | 3 |
| Live Weather Overlays | | |
| NMM Overlays | | |
| Rainfall Accumulations | | |
| Resolution | 1km | 1km (Euro radar 5km) |
| Full Archive | | To 2005 |
| Radar Versions Available | 1 | 3 (V6, V4 and Basic) |
Cookies On Netweather
Like most websites, Netweather uses cookies to enhance your experience of our site. Using this website means you're ok with that, but if you would like more information or to opt-out of cookies of please visit our
Cookie Info Page