Ahh, so this is what summer feels like - it's been a while. Most parts have dawned to blue skies and sunshine this morning, and for a good part of the country, that's how it'll be staying for the rest of the day. Beyond today, summery it won't be.

Satellite and radar from earlier this morning - check the latest here.
We've had a bit of a chilly start to the day today, with many rural areas comfortably down into single figures. But the sun still has plenty of oomph at this time of year, so temperatures are recovering quite speedily. Don't expect anything heatwave like though, with the high teens and low twenties the peak.
As you may have already spotted, it's not wall-to-wall sunshine for everyone, unfortunately. Some showers are affecting western Scotland this morning, and these will tend to spread a little through to other parts of Scotland during the day. They'll be fairly well scattered though, so not all will see one. A few others will also pop up into Wales and southwest England this afternoon, but again they'll be relatively few and far between.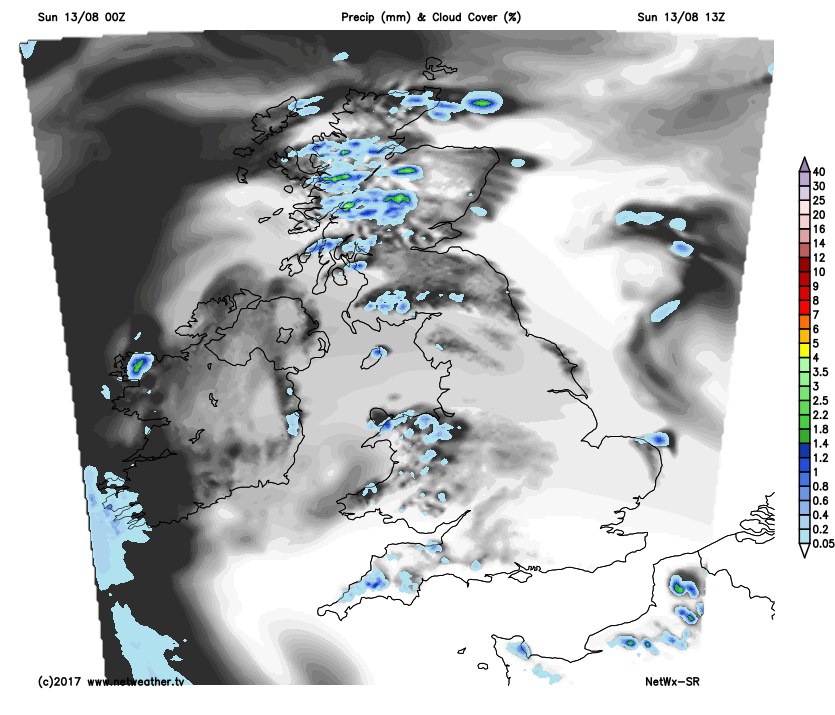 Although they'll not be big players today, the showers do give a good hint as to what's happening: The ridge of high pressure which has brought the improved weather this weekend being eroded from the west, as low pressure moves our way from the Atlantic.
Ireland will see the change first, with a band of rain moving through this evening. By tomorrow morning, much of western England, Wales, southern and central Scotland will be seeing some outbreaks of rain. That'll all continue marching east and north. Northern Scotland will be wet by lunchtime, with central England starting to get in on the act by this point too. Eastern regions will stay dry the longest, with the southeast avoiding much of the trouble, and enjoying a warm, bright Monday.
As you may expect, under the rain, temperatures won't be too inspiring, reaching the mid-high teens. Southeast England reaching 21-23c though. This is how things are look at 3pm.
Showers will follow the rain band into the west, with some of these heavy and thundery. That showery theme takes us overnight and through into Tuesday as well - with some lively showers likely.
By Wednesday they will have cleared away in the main, with just a few affecting western regions. The respite from the unsettled weather will last much of the day, all day in eastern and central parts. But more rain and strong winds will be on their way in from the Atlantic later and overnight. The rain will clear the east during Thursday morning, followed by (surprise, surprise), sunny spells and a good rash of blustery showers. They'll continue through into Friday as well, just to top off an un-summerlike week.
---
Want to escape the iffy weather?
Check out the forecast for holiday resorts around Europe (and the world) here.
---