Imagine you work for a newspaper, and the summer stretches before you. Known for being a quiet news time, no major politics as it is the Parliament summer recess (Brexit updates continue), no Premier league and the weather this year is mediocre. Temperatures have been in high teens, just into the low 20s Celsius, with little change showing into August. Showers come and go, no heatwave, not a complete washout, no long-term flooding, only bits of sunshine and nothing "highest/longest/worse/ on record". Pah to UK summer, we need something more energetic and powerful from nature, you need a volcano!
Away to the NW, there are rumblings, the earth is stirring, and it could affect the UK. Volcanic ash might cause flight chaos, and there would be ranting families, major disruption, compensation claims, airport scenes – summer holiday news. Remember Eyjafjallajökull? Don't worry; no one is going to ask you to pronounce it. This Icelandic volcano did erupt in 2010 and threw ash over NW European airspace in the Easter holidays. Now there is Katla (or Myrdalsjokull ), and the Daily Star are excited/worried for you.
Current news from the Met Office, they are less worried.
Of course, there could be a volcanic eruption in Iceland, but several conditions would need to come together to bring the ash over UK airspace. These include; an actual eruption, then how much ash is thrown up and to what height in the atmosphere, the winds at different levels and how the ash disperses. Also, how long the ash continues to appear from the volcano. In April 2010, it spewed out for several days and started up again in May, hence the angst at many airports as people tried to return for the new school term or back to work.
Aeroplanes and volcanic ash do not go together. Ash clouds are very hazardous to aircraft and so must be avoided. The particles get into the planes' engines and also accrete, stick onto the plane's nose or wings which causes all sorts of strange readings in the cockpit and can be catastrophic.
As a result, there is lots of monitoring going on.
Around the world, there are 9 Centres monitoring any Volcanic Ash Activity, VAACs. One is in London looking at civil (not military) aviation and issues advisories for the NE area of the northern Atlantic, so mainly for Icelandic eruptions. It is run and hosted by the Met Office at Exeter and
"has specialist forecasters who produce volcanic ash advisories and guidance products using a combination of volcano data; satellite-based, ground-based and aircraft observations; weather forecast models and dispersion models. "
This is an example of the type of output, from an exercise, about Katla in Mar 2017.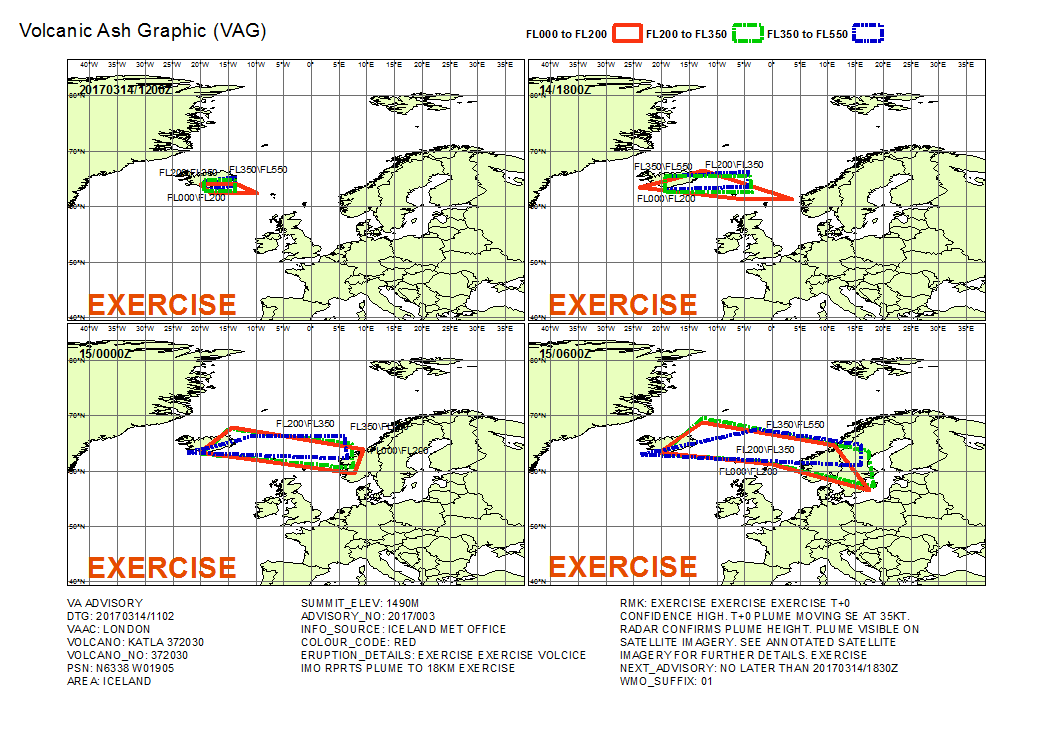 Local Warnings
Icelandic Meteorological Office looks at weather, so rain, snow, temperatures and particularly wind forecasting. It also provides Aurora forecasts, avalanche warnings and monitors earthquakes, a different sphere from our Met Office as that is covered by the British Geological Survey here in Britain.
The figure below shows earthquakes from the end of July, there are often tremors and background shifting on the island. Even the capital Reykjavík felt several earthquakes around magnitude 4 a few days earlier.
And a similar observation map is available for the volcanoes alongside their aviation code colour, Katla being on a Yellow alert, prompting the UK headlines at the end of July.
So, what has been happening in Iceland with Katla?
Background information about Katla
The warning mainly related to activity which can occur before an eruption. Katla hasn't erupted since 1918 and is partly covered in ice and is large enough that ash may reach mainland Europe. Eruption frequency during the last 1100 years is '1 eruption per 50 years', so you could say it is overdue, remembering nature doesn't often work like that. Other Katla information - the warning period is unknown. Instrumental precursors may be seen months or years before an outbreak, one being "A large glacial outburst flood (jökulhlaup) emerges from underneath the glacier 0-2 hours before the eruption column becomes visible." The floods will carry huge ice blocks and huge amounts of sediment, mostly volcanic debris. These can be very dangerous.
Part of the higher level Yellow alert for Katla included the risk of flooding. Katla is a subglacial volcano and has a history of producing huge floods. Icelanders have learned to avoid the outwash plains of the most frequent jökulhlaups. Many are potentially hazardous and, like the flood risk here in the UK, sooner or later there will be flooding in parts of the current farmlands in the far north and south of the country. Katla being in the central south.
A warning system is operated by the Icelandic Meteorological Office which informs Civil Protection Authorities of impending floods or jökulhlaups. Unusual increases in water level or electric conductivity at key water level gauges trigger a warning that is subsequently evaluated by scientists. Then the Civil Protection Authorities hopefully get a few hours' head start in preventing a public hazard. A recent warning for Katla:
28th July 2017 - There are several known geothermal areas underneath the ice-cap Mýrdalsjökull. Geothermal water flows into Múlakvísl on a continuous basis but in some instances the geothermal water is collected in reservoirs underneath the glacier. Eventually these reservoirs empty and cause glacial river surges. The speed at which the reservoirs empty varies.
The 2010 Eyjafjallajokull eruption set off one such flood event with rapid volcanic debris, icebergs speeding over the surface of the glacier and had the potential to reach inhabited areas. Hence another facet to the Volcano warning system, it's not just about ash in the air.
And in answer to this...
A downgrade for this week. If the rumblings start up again or you just want to seek reassurance before flying, keep an eye on the Icelandic Met Service
Forecasting the weather is tricky, these volcanoes seem equally fickle.
How does volcanic ash affect flying? - Finnair