Key Points
Risk of accumulating snow from wintry showers across northern and western areas tonight, Thursday and Friday. Also risk of snow showers for eastern coastal areas on Friday.
Risk of rain turning to snow across southern England and parts of E Anglia for Thursday's rush hour as frontal wave clears here.
Risk of icy roads developing overnight where showers have fallen and temperatures fall to close to freezing.
Risk of gales or severe gales for northern areas tonight and Thursday
Risk of gales or severe gales with coastal flooding for eastern coastal areas on Friday
This blog will focus on the snowfall, high winds and also coastal flooding along the east coast – which will cause some travel disruption and perhaps damage to property over the next few days.
Wednesday evening/night
The main feature today has been the strong westerly wind across northern areas, with gusts of 60-70mph across exposed parts of western Scotland, 40-50mph through the central belt and northern England– which has been enough to overturn a lorry on the Forth Bridge and close it this morning with some damage to property from the high winds across NE England. The strong westerly wind will continue to be a feature this evening and overnight, gusting to 60mph across Scotland, NW England and N. Ireland over hills and coasts, perhaps up to 70 mph over northern and western Scotland. Combine this with heavy showers in these areas overnight, there maybe temporary blizzard or whiteout conditions on higher routes, along with drifting snow.
We've seen a rash of wintry showers today blowing in across northern Britain – falling as snow over the higher ground of Scotland, Northern Ireland and northern England, sleet, rain and hail at lower levels. But as increasingly colder air filters in from the northwest, these showers are falling increasingly as wet snow to lower levels inland across Scotland this evening, particularly in the heavier ones.
Frequent showers across Scotland and Northern Ireland will fall as snow away from immediate coasts overnight, accumulating even to lower levels overnight, with the snow drifting in the strong west to northwest wind. NW England, Northern Ireland and north Wales also seeing sleet and snow showers, sleet at lower levels initially this evening, but turning increasingly to snow overnight. Snow accumulating readily over higher ground, but perhaps low-levels too by dawn. The increasingly cold air crossing the relatively warm Atlantic will generate sufficient instability to produce thunder and lightning too, so don't be surprised to experience some 'thundersnow' toward windward coasts.
Thursday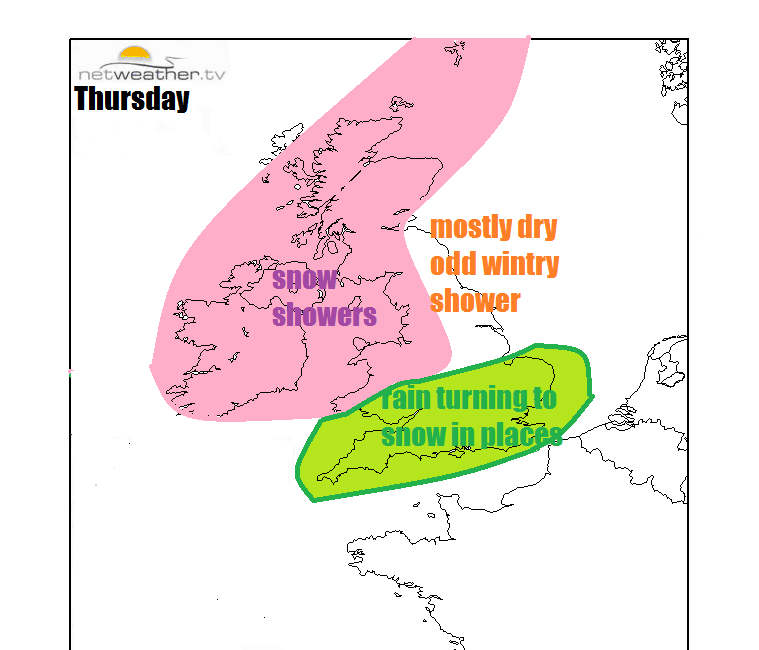 Frequent sleet and snow showers will continue to blow in on a strong northwesterly wind across Scotland, N. Ireland, and Irish Sea coasts of NW England and Wales, with some moving over the Pennines or filtering through the Cheshire Gap to the Midlands. Snow accumulations from these wintry showers at low-levels across Scotland, N. Ireland and northern England, though perhaps higher ground of Wales initially before lower levels in the afternoon.
Thursday 6hr precipitation type and surface pressure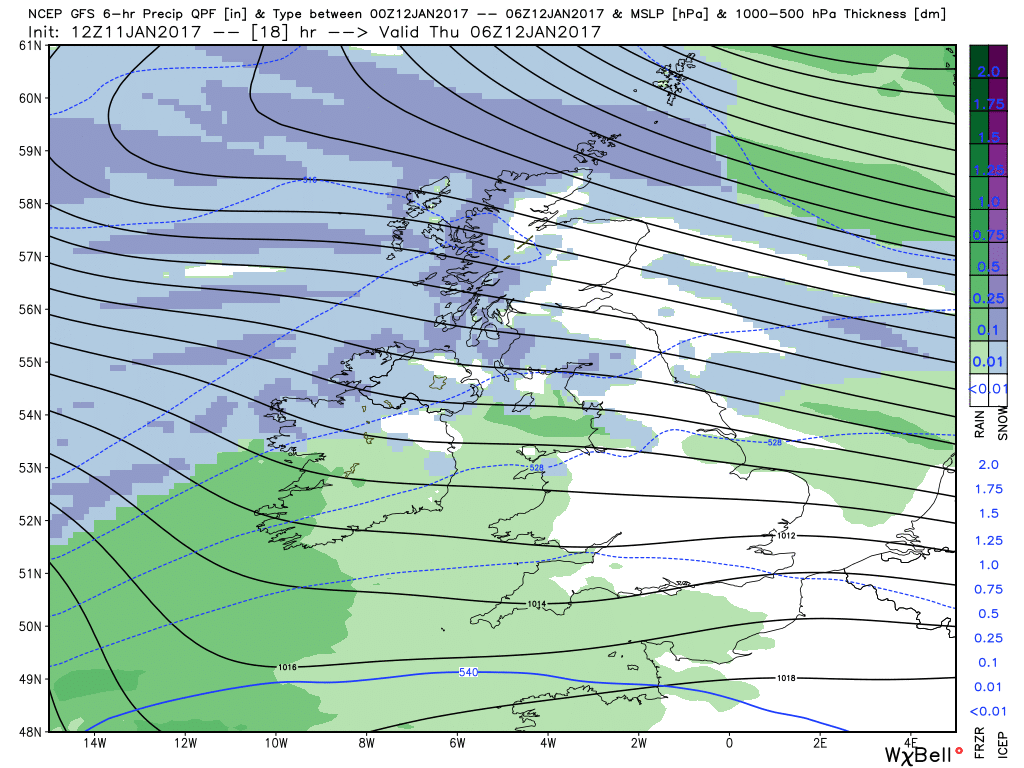 Accumulation totals: we are looking at perhaps 2-5cm at lower levels generally, 5-10cm above 200m, though across western Scotland we may see as much as 10-20cm over higher ground. Strong to gale force northwest wind gusting to 50-60mph will also bring a risk of drifting snow and blizzard conditions over higher routes in the north.
Further south, the NWP weather models take a troublesome frontal wave east along the English Channel or southern most counties of England.
The difficulty this low is causing for weather forecasters is the potential for snow to develop on the back of this wave as it clears into the near continent on Thursday evening. Although cold air is sweeping south on Thursday, bringing snow to low levels from showers in the north and west, this frontal wave moving east off the Atlantic will have a wedge of milder air drawn in ahead it, which will mean initially rain will fall as the wave passes through southern counties. However, the colder arctic air moving down from the NW will undercut the back end of the swathe of rain this wave brings, potentially turning the rain to snow across parts of southern England and East Anglia, pretty much through the rush hour between 3-7pm. As the ground will be wet from the initial rain, snow may struggle to settle, particular lower levels.
However, if precipitation is heavy enough, increased evaporative cooling of the rainfall will lower the air temperature to allow snow to fall and settle. Higher ground, above 150m, most likely to see accumulations perhaps as much as 5-10cm locally, whereas low-levels are much harder to gauge accumulations which will be patchy and vary due to local influences and heaviness of the rain/sleet/snow. So although high ground will see a good chance of a covering, for low-levels it will be a case of nowcasting snowfall accumulations. Nonetheless, there is obviously scope for travel disruption should snow accumulate, particularly as snow is most likely during the rush hour period.
Friday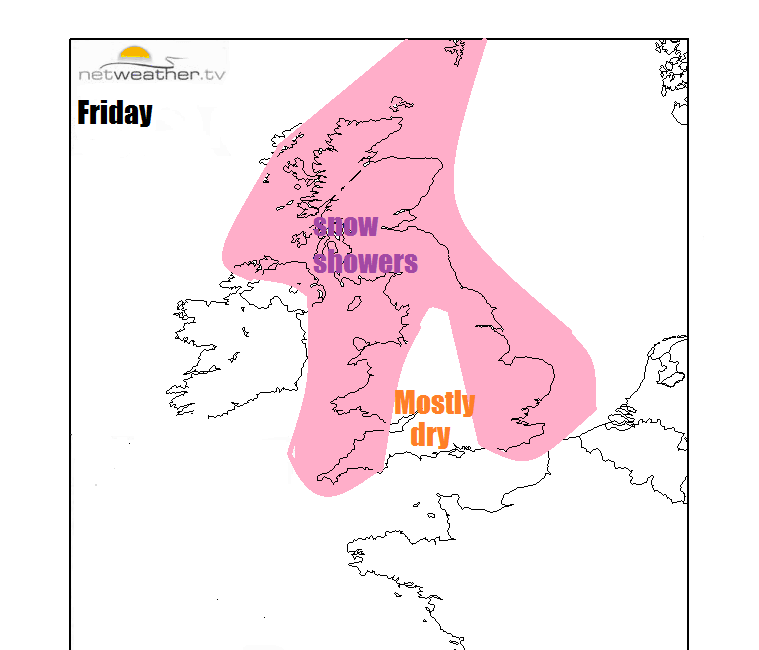 Colder than Thursday, as the arctic air has set in for over 24 hours, could be some icy patches in the morning where sleet and snow have fallen Thursday evening and overnight and temperatures have fallen to freezing. Further snow showers likely across northern Scotland, along western coasts and also moving south and onshore along eastern coastal counties as winds veer northerly here. Further accumulations at all elevations, though highest totals for higher ground. Falling on already icy surfaces in the morning could lead to slippery conditions first thing.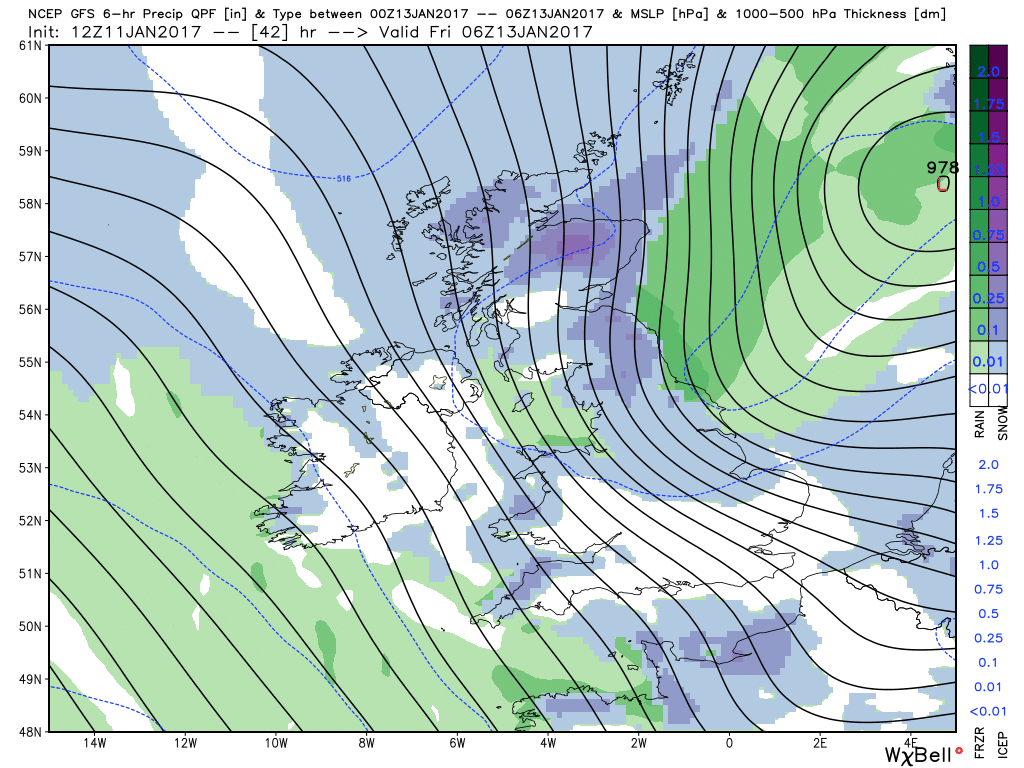 A deep low around 980mb will drop SSE over the North Sea, with a very tight pressure gradient on its western flank – which will produce a strong northerly wind down the North Sea and adjacent east coast of Britain. Sustained winds of 40mph+ and gusts of 70mph+ are indicated by models in the morning, combine this with a spring high tide down the east coast in the morning, there is potential for a storm surge down the North Sea, with large waves overtopping sea defences and causing potential damage to property along these coasts.
Wind Gusts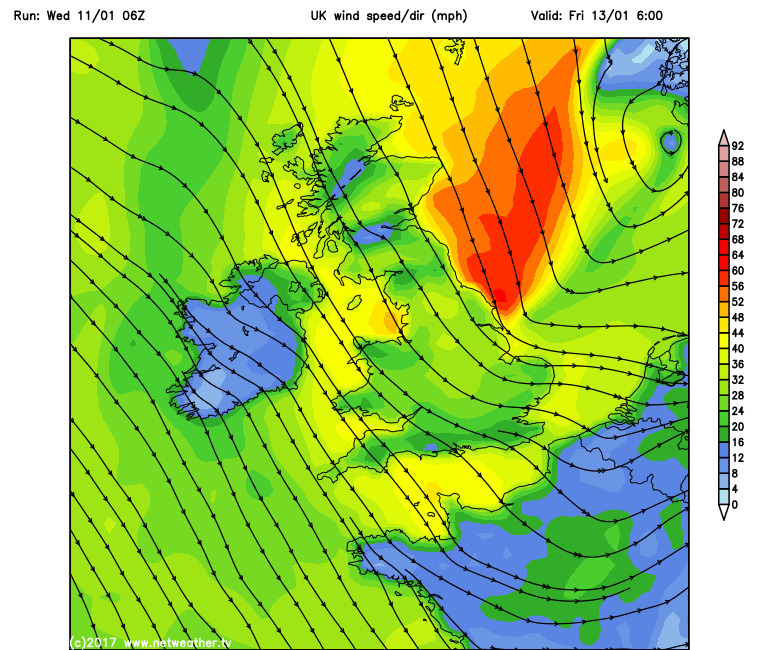 The Weekend
Further wintry showers along coastal areas in the west exposed to the northwesterly wind – though tending to fall less of snow and more sleet/rain as less cold air arrives through the day off the Atlantic. Sleet and snow showers along the immediate east coasts too. Otherwise many inland areas dry, sunny and cold.
Sunday sees an occluded frontal system with milder air behind it move off the Atlantic and spread cloud and outbreaks of rain southeast across the UK.
Next week
High pressure looks to build in from the SW early next week, so it's looking predominantly dry, temperatures probably close to average at first generally, but there are hints from the models that a colder continental flow from the east may develop across S and SE England, lowering temperatures and bringing a risk of hard overnight frosts.