A Diamond Weekend, But What Next?
Hopefully you've enjoyed the Jubilee Weekend, whether you've taken part in some of the festivities or just enjoyed the extended break. The weather hasn't been the kindest but in many cases at least it didn't put too much of a dampener on things.
As we head back to work, the setup isn't going to change too much so expect more wet weather at times, as low pressure stays well and truly in charge.
Wednesday will see an area of low pressure right over the top of the UK, for Scotland this will mean some persistent rain moving north through the day, elsewhere it's a day of sunshine and heavy thundery showers. The heaviest and most frequent showers are likely to affect Wales, southern and central England - developing in the west and moving east through the day. They'll be fairly slow moving too, so affected regions could get quite a soaking as they pass through.
Thursday brings another system toward the UK, with a band of rain moving up across the country from the southwest. This system looks likely to bring some stronger winds with it too, with gales possible in western areas.
Friday keeps the low pressure very close by, and that will mean heavy, blustery showers likely for much of the UK.
Looking toward the weekend, we keep the train of systems going although they may well track a little further south giving the northern half of the country a better shot at some drier and brighter weather at times.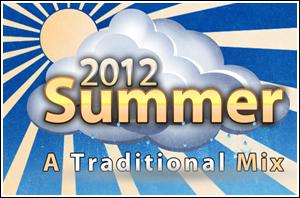 Summer Forecast
- as you can see by the image alongside, the Netweather summer forecast has been issued and we're expecting a pretty traditional British summer.
Read the full forecast here
.
Published on 5th June 2012 21:55 Updated: 5th June 2012 21:55