Hotting Up - 28c Possible Today
Summer has definitely arrived to the UK this week, and although there will be some daily variations, it's going to last right through the remainder of the week and into the weekend.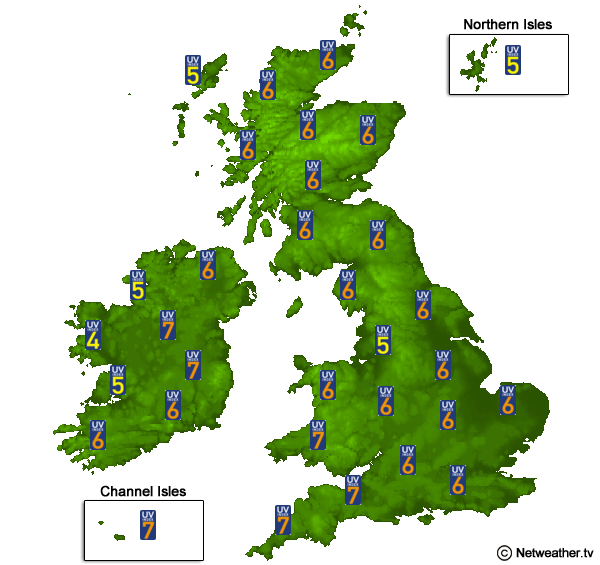 Temperatures are on the rise too, with highs heading up into the mid-twenties for many today, with perhaps 26-28c the high in southern parts. Nearer the coasts it will be cooler though, with some patchy cloud moving in from time to time.
The high temperatures may just spark a shower or two this afternoon as well and if they do develop then they're likely to be heavy and thundery - these most likely down the spine of the country. Because of the storm risk, we have issued a
Detailed storm forecast
.
Another hazard today is the high UV - as shown on the right hand side, the sun is strong at this time of year and it takes very little time to burn when out in it so please do take precautions.
Into tomorrow, it's more of the same with temperatures reaching similar values as today, although with the easterly breeze starting to pick up it will bring in more cloud and cool things off in eastern regions - particularly those north sea coastal counties.
Friday keeps the easterly breeze going, so feeling cooler for much of the eastern half of the country - but highs here still reaching the high teens and low twenties. Further west will see the warmer temperatures up into the mid-twenties again.
The weekend is likely to see that east breeze easing down eventually, but we need to keep an eye out to the southwest as low pressure may well nudge close enough to bring some thundery rain into southern and western regions - that's a long way off though.
Published on 23rd May 2012 09:59 Updated: 23rd May 2012 09:59