Coldest May For 100 Years?
Stories in the media this morning are suggesting the UK is heading toward a very cold May, in fact 'The coldest May for 100 years' in parts of the country. (Source -
Daily Express
). How likely is this though?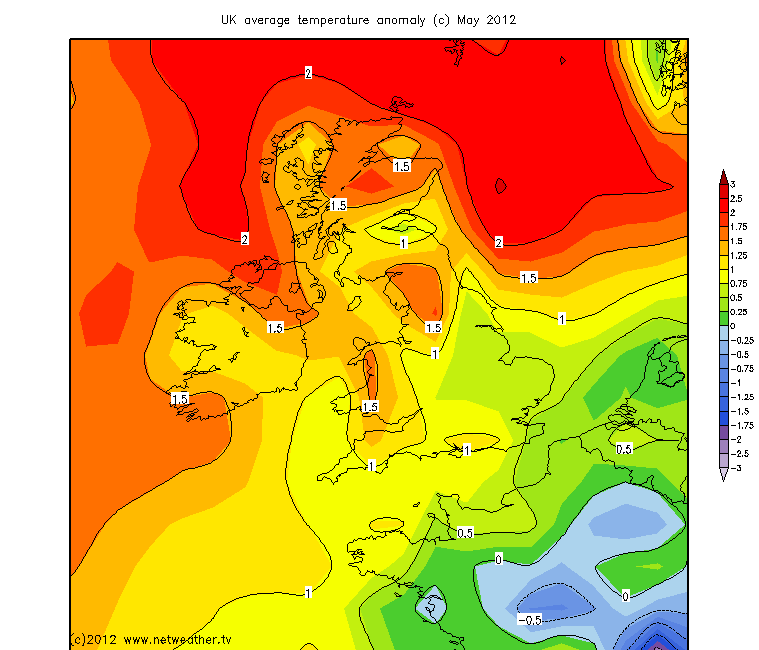 In recent times the UK has seen quite a pattern change after the very mild spell in March, with the
jetstream
running to the south of the British Isles and low pressure in situ across the country. This is leading to often cool and unsettled weather dominating, with the likelihood of very little change during the next week to 10 days at least.
Beyond that and into May, the current expectation is for temperatures to slowly recover more toward average levels, albeit still with unsettled conditions playing a large role. Obviously at this type of range confidence does drop away though, but the majority of indicators we use do not currently point to a very cold May - even if there is the possibility of some cooler periods.
Alongside is the latest temperature map for May from our long range
CFS model
and as you can see it is forecasting temperatures across much of the UK to be close to or slightly above average.
In summary, whilst longer range forecasting is often fraught with difficulty and always considered lower confidence than shorter range forecasting, we think the likelihood of a significantly colder than average May is very low.
As ever, stay tuned to Netweather for all the latest - including the next update to our
long range forecast
on the 9th May.
Published on 19th April 2012 10:43 Updated: 19th April 2012 10:43